Anti-Obamacare Ad: Don't Let the Government Play Doctor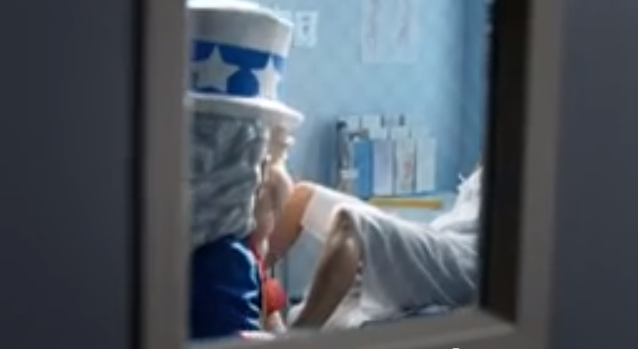 The image of an individual clothed in the iconic red, white, and blue suit of Uncle Sam and wearing an oversized, clownish mask giving a woman a pelvic exam is very disturbing for most people. That reaction is what a recent advertisement financed by Generation Opportunity was counting on its viewers experiencing.
To be precise, the one-minute long video used that visual to show why it will be problematic to "let the government play doctor," which is what the organization has argued the Affordable Care Act will accomplish. The problem is not that the health care reform, known popularly as Obamacare, will not work from a financial standpoint, but that the law will allow the government to intervene in the personal lives of Americans to an unbearable extent, therefore making it better to go without coverage.
Beginning with soft music that is reminiscent of a circus tune, the advertisement shows a young woman entering a doctor's office, and, after acknowledging that she just signed up for Obamacare, she is shown into an examination room. Once she is dressed in a gown and prepared for the pelvic exam, Uncle Sam appears to give the check-up. Then, white text appears across a black screen, warning, "Don't let the government play doctor." A second advertisement features a young man being examined by a glove-wearing Uncle Sam.
Generation Opportunity is running a $750,00 campaign against the Affordable Care Act, urging young Americans to opt out of the Obamacare exchanges. The exchanges were created by the law's individual insurance mandate to allow consumers to comparison-shop for health insurance policies in online marketplaces where their collective bargaining power will theoretically foster competition and drive down prices.
While the organization is legally a nonpartisan group, an anti-big government slant is evident in its website rhetoric, and its leadership has roots in the Republican Party. Organization President Paul T. Conway once worked as the deputy director of the Citizen Project at the conservative Heritage Foundation, and he was also chief of staff for former President George W. Bush's secretary of labor, Elaine Chao. The group is also backed by billionaire donors Charles and David Koch.
As Texas Sen. Ted Cruz — a main proponent of the Tea Party-backed defund Obamacare campaign — has pointed out, time is running out to halt the implementation of health care reform. The Obamacare exchanges are scheduled to open for enrollment October 1, the day the new fiscal year begins, and Cruz believes that once the exchanges open, there will be no going back.
Obama "wants to get as many Americans as possible addicted to the subsidies, addicted to the sugar, because he knows that in modern times, no major entitlement has ever been implemented and then unwound," Cruz told radio host Rush Limbaugh in an interview in late August. Cruz wants lawmakers to vote down any spending bill for the upcoming fiscal year that funds the health care reform.
But if that effort fails — and it likely will, because the Republican Party as a whole has shown reluctance to defund Obamacare at the expense of a government shutdown — convincing young, healthy individuals to pay the tax penalty instead of purchasing insurance could put the success of the reform in jeopardy.
The exchanges need a broad, healthy risk pool to prevent staggering rate increases, and keeping insurance premiums affordable matters immensely to the health care reform's success. Individual exchanges need a lot of healthy, cheap-to-insure people to sign up for coverage because their premiums cover the big bills for the relatively small number of sick people. "So if the exchanges don't enroll enough young, healthy people, insurers will have to raise everyone's premiums," wrote the New Republic's Jonathan Cohn in May. "In the worst case, this could create what actuaries call a 'death spiral': Rising premiums prompt people to drop out, causing premiums to increase even more."
Currently, Generation Opportunity is circulating a petition, which includes the new advertisements, that reads: "Friends don't let friends sign up for a bad deal!" It then explains: "You are not required to purchase health insurance through an Obamacare exchange" because there are other options. Signing that petition is a declaration that "you will opt-out of Obamacare."
Follow Meghan on Twitter @MFoley_WSCS
Don't Miss: Fed's QE Surprise Means Skyrocketing Stocks.