Apollo Global Considered by Hostess and 3 Morning Hot Stocks Turning Heads
Dole Food Company, Inc (NYSE:DOLE): Current Price $10.79
Dole Food Company, Inc (NYSE:DOLE) is up almost 5% before the opening bell in response to an article in Barrons that claims the company stock is an investment opportunity after falling 26% on news of the sale of the company's packaged foods and Asian food operations to Japanese company Itochu. According to the article, the sale proceeds could make Dole debt free and also release capital which could be returned to shareholders. What's more, the company's current valuation of 6.7 times 2013 EBITDA, which is in line with historical multiples relating to fruit companies, could fall to just four times if one accounted for the farmland owned by the company and valued at about $500 million.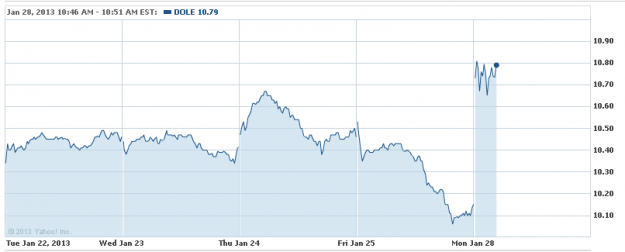 Sony (NYSE:SNE): Current Price $14.92
Regulators in China may soften their stance on a decade old ban on video game consoles, implemented due to concerns on their impact on children's mental and physical development. A Chinese safety standards body certified Sony's (NYSE:SNE) PlayStation 3 gaming console in November, giving rise to speculation that the ban might be lifted soon. However, the rumours were scotched by an official at the cultural market department of the Ministry of Culture, who denied that the ministry was considering relaxing the ban.

Are these stocks a buy or sell? Let us help you decide. Check out our Stock Picker Newsletter now.
Apollo Global Management (NASDAQ:APO): Current Price $21.31
According to the New York Post, bankrupt baker Hostess Brands may select Apollo Global Management (NASDAQ:APO), which is owned by Manhattan buyout billionaire Leon Black, as the preferred bidder for its Twinkies and other snack brands. The announcement could boost Black's chances of owning these marquee brands and dim the chances for the Teamsters, representing former Hostess delivery drivers who prefer Mexican baker Grupo Bimbo as the stalking horse bidder. The delivery drivers are in favour of Bimbo as it has a unionised workforce and may be expected to higher some of the 9,000 Hostess drivers who have been laid off.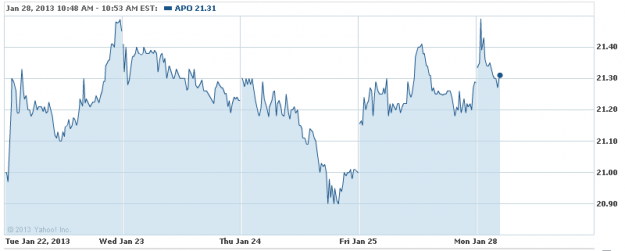 Bank of America Corp (NYSE:BAC): Current Price $11.55
Bank of America Corp (NYSE:BAC) is to shift more than $50 billion of its derivatives business from out of its Dublin operations and into its subsidiary in the United Kingdom as a part of its drive to rationalise and simplify operations as well as take advantage of the subsidiary's $8 billion pile of tax-deferred assets. The Irish are not expected to complain, given their reported discomfort with the scale of the derivatives operations, which Bank of America routed through Ireland to take advantage of the country's low tax rates.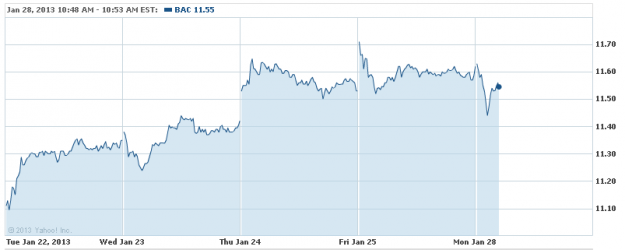 Don't Miss: The Fed's Balance Sheet: $1 Trillion…$2 Trillion…$3 Trillion…