Apple Analyst Sees $500 Ahead and 3 Investor Insights Making Rounds
Dell Inc. (NASDAQ:DELL): Current Price: $13.75
Jefferies is convinced that the leverage buyout bid for Dell has the possibility of being increased to $15 per share to appease the shareholders who are not happy with the current $13.65 per share price. The firm predicts that a $15 per share bid would yield a 20 to 23 percent internal rate of return, and it thinks that private equity would be unlikely to accept a reduced rate. Jefferies believes that enough Dell shareholders would be satisfied with a $15 bid for approval of the deal. The firm reiterates its Hold rating on the stock.

Apple Inc. (NASDAQ:AAPL): Current Price: $480.63
According to Citigroup, data from IDC on Friday indicated that Apple has lost tablet market share again, despite the introduction of the Mini. According to Citi, Apple continues to hold a dominant 38.8 percent of the market, but the firm adds that this has fallen from its 56.8 percent peak seen during Q2 of 2012. Citi reiterates its Neutral rating and gives shares a $500 price target.
Are these stocks a buy or sell? Let us help you decide. Check out our Stock Picker Newsletter now.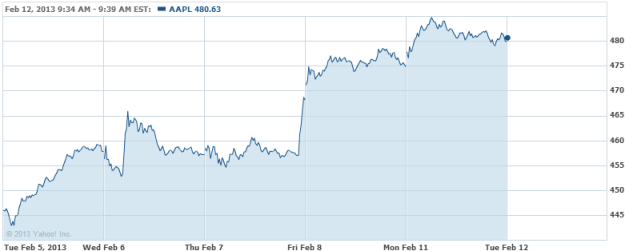 Cisco Systems, Inc. (NASDAQ:CSCO): Current Price: $21.20
Piper Jaffray decided to increase its price target on the stock to $25 from $22 prior to the company's Q2 results and keeps an Overweight rating on the stock. Piper predicts that Cisco will report modest revenue and earnings upside during Q2 along with improving tone from CEO John Chambers. The firm recommends the stock as one of its favorite large cap ideas.

Medical Properties Trust Inc. (NYSE:MPW): Current Price: $13.80
RBC Capital thinks that Medical Properties' strong EBITDAR coverage ratio has the potential to assist in protecting the company's cash flow stream, although it has seen near-term Medicare rate pressures. The firm has increased its operating FFO estimates and keeps its Outperform rating on the stock.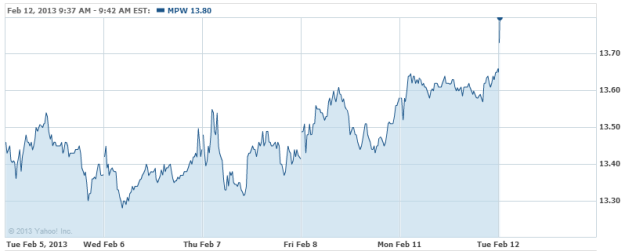 Don't Miss: Your Apple iWatch Rumor Roundup.