Apple and Google Square Off in Tablet Race and 3 Other Hot Stocks
Apple (NASDAQ:AAPL): IDC has released its latest quarterly data for the tablet market, and the results are staggering. The firm contends that the market for tablets grew 142 percent — significantly more than Strategy Analytics' "modest" 117 percent figure — over the same quarter last year, with 42.9 million units shipped — more than the entire first half of 2012 combined. Apple's iPad and its variations outperformed according to the firm, moving 19.5 million units, compared to a forecast of 18.7 million. It also contends that Google's (NASDAQ:GOOG) Android-powered devices made up 56.6 percent of the market in the first quarter, with 27.8 million devices shipped. By Strategy's estimates that number was closer to 17.6 million.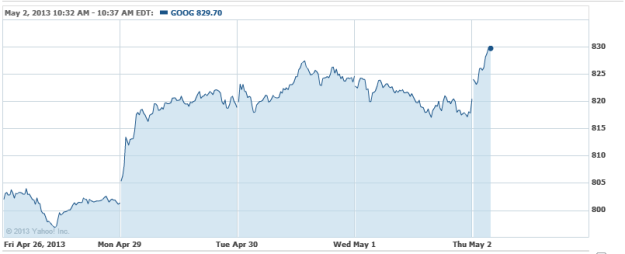 Teva Pharmaceuticals (NYSE:TEVA): Teva narrowly beats its estimates for the first quarter, with earnings per share of $1.12 beating by $0.01. Revenues of $4.9 billion just made it over expectations by $0.05 billion. European markets, which have proved substantially difficult for numerous companies across industries, performed well for Teva, with growth of 11 percent year over year. U.S. sales slid 27 percent, largely attributed to the absence of royalties related to generics.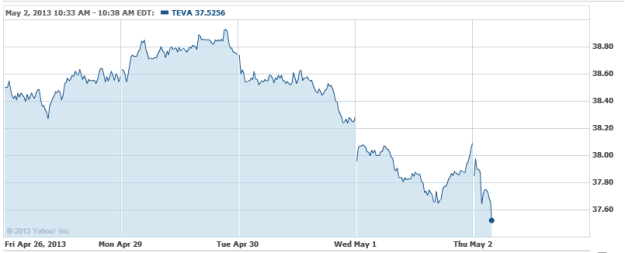 Actavis (NYSE:ACT): The pharmaceutical company slid by with earnings surpassing expectations, but just falling shy on revenue. EPS of $1.99 beat by $0.11, while revenue of $1.9 billion (a 24 percent increase) missed by $0.07 billion. Gross margins increased from 45.1 percent to 50.7 percent year-over-year, urging the company to raise its forecasts. "The new Actavis is off to a strong start in 2013," says CEO Paul Bisaro, "and as a result, we are increasing 2013 guidance." It now estimates EPS to be $8.10-$8.50 for the full year, up from previous guidance of $7.70-$8.10.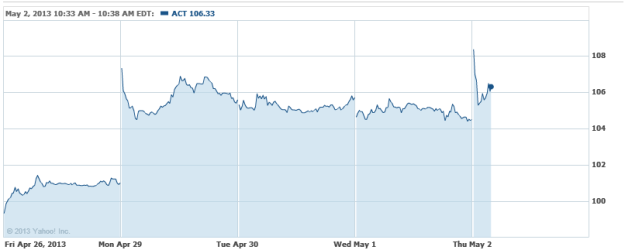 Viacom (NYSE:VIAB): Wunderlich has handed Viacom an upgrade following its quarterly results, awarding its shares a Buy rating, up from Hold. It also raised its price target from $72 to $80. "Although we are barely altering our model and valuation analysis following FQ2 Viacom results, we are now subjectively comfortable enough on network and studio outlook to emphasize an $80 F2014 price target – justifying an upgrade to Buy," said Matthew Harrigan of Wunderlich.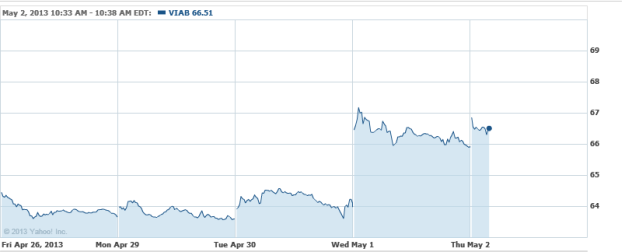 Don't Miss: Apple's iOS 7 Redesign: Too Much, Too Late?