Apple Breaks Below $400 on More Demand Concerns
Apple (NASDAQ:AAPL) shares have been stuck in a downward trend since peaking at $705 last year, and took another stumble below a key psychological level on Wednesday.
The wave of negative sentiment around the tech giant intensified as Cirrus Logic (NASDAQ:CRUS), which is widely believed to make analog and audio chips for the iPhone and iPad, announced a weaker-than-expected forecast. For the first fiscal quarter, the company expects revenue of $150 million to $170 million. Wall Street was expecting revenue above $190 million.
Mr. Market did not react well to the news. Shares of Apple broke below $400 for the first time since December 2011.
Cirrus Logic will post a record net inventory reserve of $23.3 million for the fiscal fourth quarter. Approximately $20.7 million of that is due to a decrease forecast for a high volume product. Apple is estimated to account for more than 90 percent of Cirruss revenue, according to supply chain estimates from Bloomberg.
Despite the outlook, Cirrus notes it is still aligned with the best in class. While it is unfortunate to close the year with a significant inventory reserve, this should not overshadow the significant progress the company has made throughout this past fiscal year," said Jason Rhode, president and chief executive officer. "We continue to be aligned with the very best customers in the markets we serve and our team is hard at work on development activities that will position us to capitalize on exciting opportunities in the future."
More negative sentiment…
A new report from DigiTimes also claims that iPad mini shipments could fall 20 to 30 percent quarter-over-quarter in the June quarter.
The lacking demand stems from consumers waiting for the release of the next generation iPad mini, said the sources. Apple has also recently adjusted its reserves for the current iPad mini, which are estimated to be between 10-12 million during the quarter, down from approximately 15 million in the first quarter of the year.
Panel makers are also likely to see pain from the slower demand. DigiTimes adds, LG Display, which is the main supplier of iPad and iPad mini panels, expects that combined panel shipments for the two devices will reach 3.5 million units in April 2013, down from five million units in the previous month. The combined shipments are expected to further drop to three million units in May and June of the year, added the sources.
According to sources, Apple still expects to ship 55 million iPad mini units in 2013.
Here's how Apple (NASDAQ:AAPL) traded Wednesday: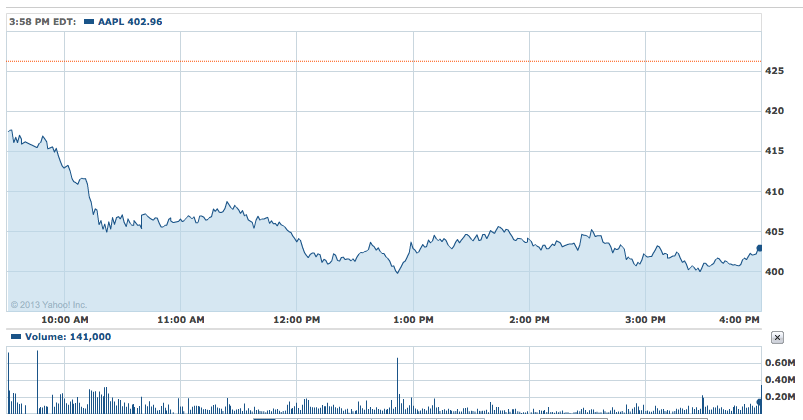 Don't Miss: Time to Get Bearish on the Tech Sector?