Apple CEO Expands Relationships in China and 4 Hot Stocks Trading Now
Bank of America (NYSE:BAC): Current Price $11.85
Old National Bancorp announced that its bank subsidiary, Old National Bank, entered into a purchase and assumption agreement under which it is to acquire 24 retail bank branches of Bank of America. These branches are located in the cities of South Bend and Elkhart in Indiana, and the Adrian, Battle Creek, Benton Harbor, Blissfield, Brooklyn, Constantine, Jackson, Kalamazoo, Niles, Paw Paw, Portage, and St. Joseph in Michigan. Deposit and loan balances that to be included in the transaction were $778.8 million and $7.7 million.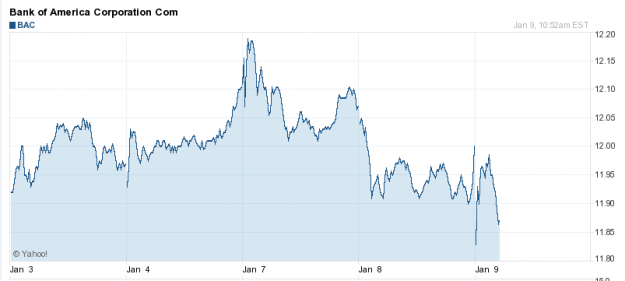 Start 2013 better than ever by saving time and making money with your Limited Time Offer for our highly-acclaimed Stock Picker Newsletter. Get our fresh Feature Stock Pick now!
Apple Inc. (NASDAQ:AAPL): Current Price $523.80
Apple CEO Cook is meeting with partners and government officials in China on his second visit in less than a year. According to analysts, the company's longer-term outlook in the market could potentially hinge on the expansion of its partners to include China Mobile (NYSE:CHL), according to Reuters.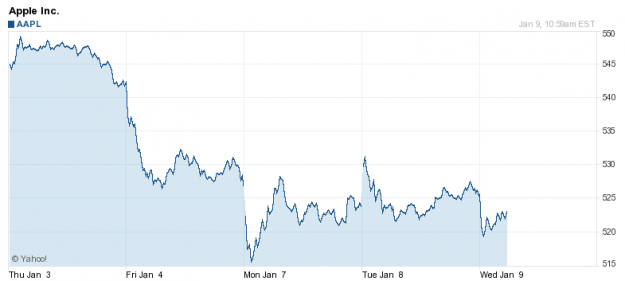 Should you buy or sell Apple's stock ahead of earnings this month? Our 20-page proprietary analysis will help you save time and make money. Click here to get your SPECIAL REPORT now.
Facebook, Inc. (NASDAQ:FB): Current Price $30.17
According to the Wall Street Journal, Facebook issued an invitation to the press for an event at its Menlo Park campus next week. It is possible that this conference is to announce a new product launch or redesign, or the anticipated Facebook phone, the Journal predicts.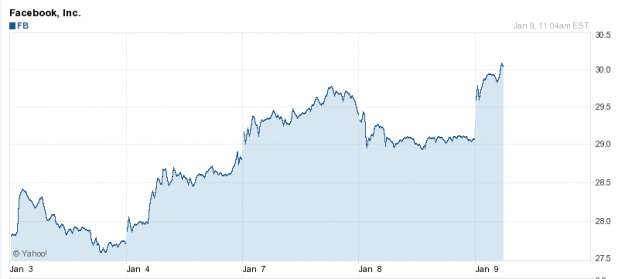 AT&T, Inc. (NYSE:T): Current Price $34.33
T-Mobile's CEO John Legere, who took his position in September, stated that AT&T's wireless network in New York City "is crap" during the its press conference at CES.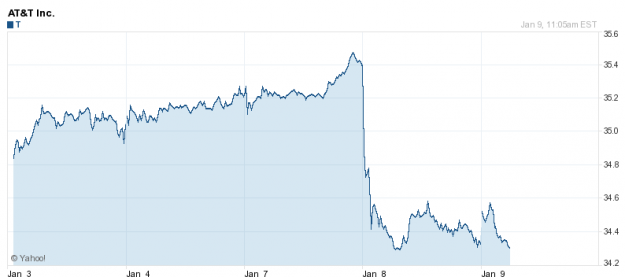 Nokia Corporation (NYSE:NOK): Current Price $3.90
TPK Holding has filed suits in China against Nokia along with others who are seeking damages and production halts for the alleged infringement upon one of its patents concerning a technology that makes touchscreens thinner, according to Dow Jones.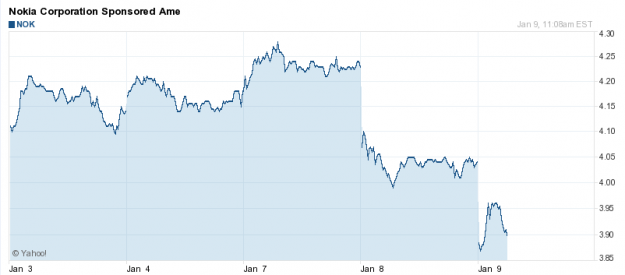 Don't Miss: T-Mobile Sets This iPhone Deadline.