Apple Denies Price Fixing Allegations, Dish Makes Move After Sprint, and 3 More Hot Stocks
Apple (NASDAQ:AAPL): Apple has made its final pitch in its denial of conspiring with e-book publishers to fix prices, with the company's lawyer telling a judge that it did nothing wrong. The government claims Apple and five of the biggest book publishers conspired to move the e-book market to a model that raised prices and harmed consumers.

Dish Network (NASDAQ:DISH): In light of abandoning its bid on Sprint (NYSE:S), Dish Network has decided to redeem $2.6 billion worth of debt, indicated by the company's recent 8-K filing. The redemption covers outstanding 5 percent Senior Notes due in 2017, and all of its outstanding 6.25 percent Senior Notes due in 2023.

Sprint-Nextel (NYSE:S): Softbank CEO Masayoshi Son said today that the company's acquisition of Sprint is on track to be completed by July, after rival bidder Dish Network failed to submit an increased offer for the company. Sprint shareholders will be voting next Tuesday on SoftBank's offer.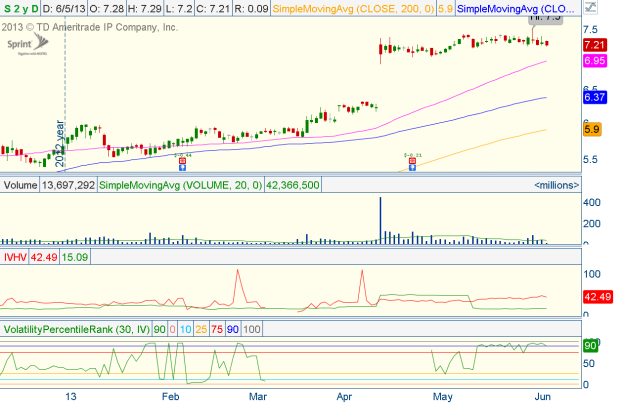 Amarin Corporation (NASDAQ:AMRN): The company says that it has assessed a fixed-dose combination of Vascepa and rosuvastatin –in comparison to the administration of them individually — and the results are "promising" given that "there was no inhibition of either the rosuvastatin bioavailability, or of the bioavailability of the active metabolite EPA from Vascepa." No adverse events were reported, and the treatment was apparently well tolerated.

Idenix Pharmaceuticals (NASDAQ:IDIX): Shares of Idenix have cratered nearly 30 percent on Thursday's announcement that the FDA wants "additional preclinical safety information" in regards to Idenix's IDX20963. This will put "clinical trials on hold" as the company works up a response.

Don't Miss: Is This the Long-Awaited iPhone 5S?