Apple Drops iOS 7 Details, Pfizer and Amgen Duel For Biocad, and 2 More Hot Stocks
Apple (NASDAQ:AAPL): New details are surfacing about the new iOS 7, and apparently it sports some improved enterprise features to go along with its fresh appearance. According to Apple, iOS 7 will deliver features that offer "more advanced ways to deploy devices and deliver a great user experience." The OS has the ability to control which apps and accounts can open documents and email attachments, enhancing the system's security.

Pfizer (NYSE:PFE): Only three bidders remain for Russian biotechnology company Biocad, and Pfizer and Amgen (NASDAQ:AMGN) are rumored to be two of them. The company could be worth as much as $750 million — $1 billion, and develops biosimilars, or copies of branded drugs. Biocad has already partnered with Pfizer in the past.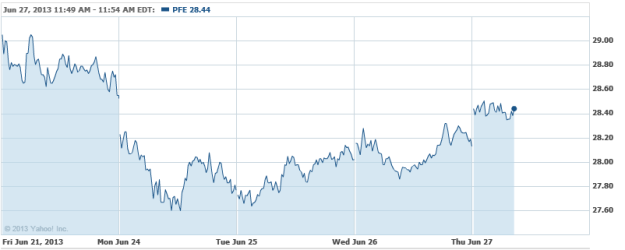 Merck & Co Inc. (NYSE:MRK): Merck has formally agreed to sell off a Dutch active pharmaceutical ingredient business and a portfolio of 11 drug brands to South Africa's Aspen Pharmacare, reportedly for $1 billion. Aspen has been on a purchasing spree later, coming of the purchase of GlaxoSmithKline's (NYSE:GSK): Arixtra and Fraxiparine/Fraxodi brands of thrombosis drugs.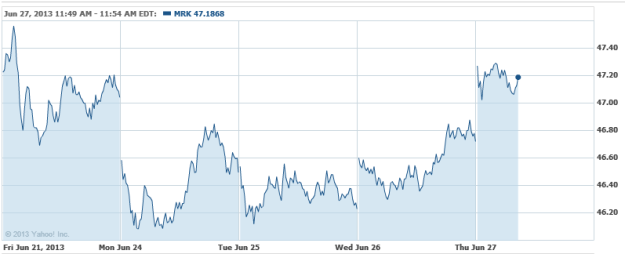 Hertz Global Holdings (NYSE:HTZ): In efforts to spread its fingers beyond the airport rental hubs, Hertz is partnering with retail centers and a parking lot operator to let customers rent a car at any hour and for any length of time. Hertz aims expand its neighborhood locations to 12,000 over the next few years, from the 2,600 locations that it has now.