Apple Gets an Antitrust Monitor, Ford Explores Space Robot Technology: Market Recap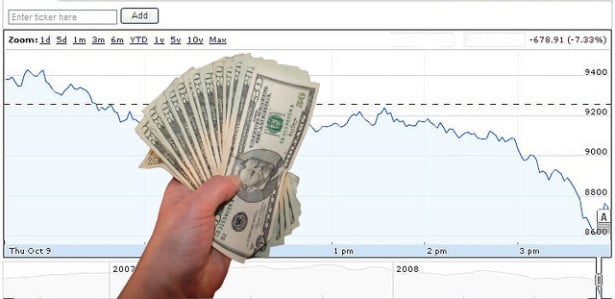 U.S. stocks rose Wednesday, boosted by oil prices rising on concerns about U.S. military intervention in Syria. On Tuesday, the S&P 500 sunk to its lowest point since July 3 as investors worried about the effect U.S. involvement in Syria's unrest could have on the market. Housing data released Wednesday showed that pending home sales dropped 1.3 percent in July after only falling 0.4 percent in June.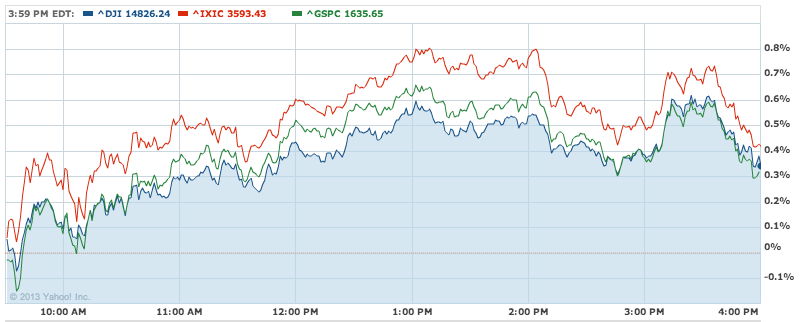 Gold: -0.30% to $1,416.00 per ounce; Oil: +0.04% to $105 per barrel; U.S. 10-Year: +2.24 to 2.782%.
How Would a Syrian Strike Affect U.S. Gas Prices?: The U.S. Energy Information Administration reported Wednesday that commercial crude oil inventories increased by 3 million barrels during the week ended August 23 to 362 million, which is near the upper limit of the average range for this time of year… (Read more.)
Are Realtors Concerned About Pending Home Sales?: Pending home sales continue to retreat from multiyear highs as rising interest rates and home prices impact homebuyers across the nation. However, the chief economist at the National Association of Realtors does not believe the slowdown is anything to worry about yet… (Read more.)
Are Higher Interest Rates Demolishing the Housing Recovery?: With interest rates on the rise in recent months, mortgage applications declined for the third consecutive week. The real estate market has been one of the strongest pillars in the economic recovery, but higher interest rates are starting to weigh on affordability levels across the nation… (Read more.)
Here's your cheat sheet to Wednesday's top stocks stories.
Tesla Motors (NASDAQ:TSLA) shares hit $172.75 on Monday on their way to a new all-time high of $173, and the company's market value swelled to $20 billion, a sure sign of investor optimism. "Justified or not, the expectations for this company are now very high," noted Baum & Associates automobile analyst Alan Baum, via Bloomberg… (Read more.)
Time Warner Cable's (NYSE:TWC) dispute with CBS Corp. (NYSE:CBS) that has left 3 million Time Warner customers without access to CBS programming since August 2 will now be mediated by the Federal Communications Commission. In an emailed statement seen by Bloomberg, an FCC spokesman said: "The commission is engaged at the highest levels with the respective parties and working to bring the impasse to an end"… (Read more.)
Apple (NASDAQ:AAPL) continues to be plagued by an antitrust lawsuit from the U.S. Department of Justice. Now, U.S. District Judge Denise Cote has ruled that an external monitor be installed at Apple to enforce antitrust regulations, something the company said was unnecessary when the DoJ first pushed for the measure… (Read more.)
Ford (NYSE:F) is teaming up with St. Petersburg Polytechnic University in Russia on a project spanning three years to study how robots communicate in space in hopes of one day bringing that technology back to Earth and into your car, Forbes is reporting. Numerous companies have been working on a sort of communications grid that would see a marriage of correspondences between cars, traffic lights, and other road markers — with the ultimate goal of improving emergency response times and easing traffic congestion… (Read more.)
Joy Global Inc. (NASDAQ:JOY), maker of underground mining equipment, posted earnings Wednesday that beat analyst estimates, though the stock closed down 4 percent due to its projected decline in sales for the third quarter. Earnings per share fell 6.6 percent to $1.70 from $1.80 a year earlier, and revenue fell 4.9 percent to $1.32 billion. Analysts had predicted steeper declines, but that wasn't enough to stop the stock from dropping.
Brown-Forman (NYSE:BF-B), maker of Jack Daniel's and Southern Comfort whiskeys, blamed higher costs for a drop in earnings but was optimistic about consumers' continued interest in premium whiskey. The company is so confident about the continued interest, in fact, that it plans to raise prices in the next year. Earnings per share fell 4.35 percent to 66 cents, missing the mean analyst estimate of 71 cents.
Follow Jacqueline on Twitter @Jacqui_WSCS