Apple Gets Bumped by Bank of America and 3 More Hot Stocks
Apple (NASDAQ:AAPL): Bank of America (NYSE:BAC) took the throne on Wednesday for being investors' most looked-up stock on CNBC, unseating Apple after a number of years, according to managing editor Allen Wastler.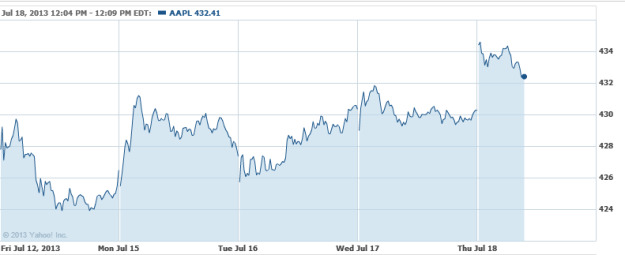 SAP (NYSE:SAP): Reports for the second quarter are in: net profit  swelled 10 percent year-over- year to 724 million euros, while revenue also rose 4 percent, to 4.06 billion euros. Software and related services revenues grew 10 percent to 3.35 billion euros against the consensus of 3.41 billion. Sales of software licenses fell 3 percent to 982 euros versus a consensus of 1.02 billion euros, as a 9 percent drop in Asia helped to contribute to the first drop in three years.

Ericsson (NASDAQ:ERIC): Despite net profit surging 32 percent to 1.47 billion kronor, Ericsson shares are off over 4 percent as the expectations set forth were not met. Second-quarter sales were little changed at 55.3 billion kronor, slightly under the 56 billion projection. EBIT rose a healthy 19 percent, though the 2.5 billion kronor figure fell far from the consensus of 4.3 billion kronor. Ericsson's gross margin also fell slightly below estimates at 32.4 percent, under the consensus 33.1.

Taiwan Semiconductor Manufacturing Co. (NYSE:TSM): Shares of Taiwan Semi are off sharply after the company's quarterly results and despite the 24 percent growth of net profit to a record of 51.81 New Taiwan dollars, or $1.74 billion, as a result of strong demand from smartphone and tablet manufacturers for high-performance chips. However, Chairman Morris Chang cut the forecast for 2013 growth in the semiconductor industry to 3 percent from 4 percent likely sparking the tumble in share value.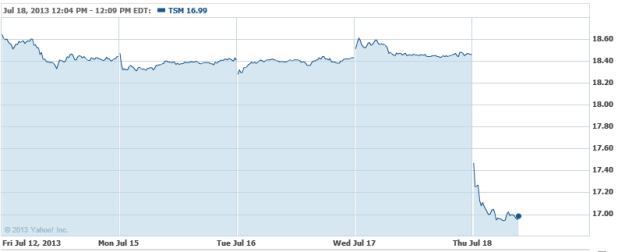 Don't Miss: Is the iWatch Apple's Next Big Thing?