Apple Gets L.A. School Board Okay For iPads and 2 More Heavily Traded Stocks to Follow
Apple (NASDAQ:AAPL): Current price $416.84
Apple reports that it has gotten the approval of the Los Angeles School Board of Education, to kick off a massive intro of iPads to its students throughout the school district beginning in the autumn. The $30-million commitment for iPads marks the first step of a larger debut for the United States' second-biggest public school district. Apple's Senior Vice President of Worldwide Marketing Philip Schiller said, "Education is in Apple's DNA, and we're thrilled to work with Los Angeles Unified public schools on this major initiative as they plan to roll out iPads to every student across 47 campuses this fall. Schools around the world have embraced the engaging and interactive quality of the iPad with nearly 10 million iPads already in schools today."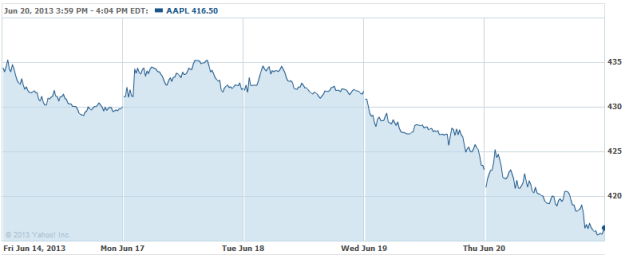 Finisar Corp.  (NASDAQ:FNSR): Current price $15.80
On Thursday, the supplier of components for fiber optic networks, saw its shares up by nearly 10 percent in late afternoon trading on a better-than-anticipated fiscal fourth-quarter report. Late on Wednesday, Finisar said that it earned 20 cents per share excluding items, on sales of $243.4 million, against consensus by analysts polled by Thomson Reuters of 17 cents and $242.6 million. Year-over-year from 2012, Finisar's earnings per share fell almost 5 percent and sales increased by 1.5 percent. Analysts predict that Finisar's earnings will rise 92 percent in its fiscal first quarter, 67 percent in the second, 59 percent in the third, and by 30 percent in the fourth.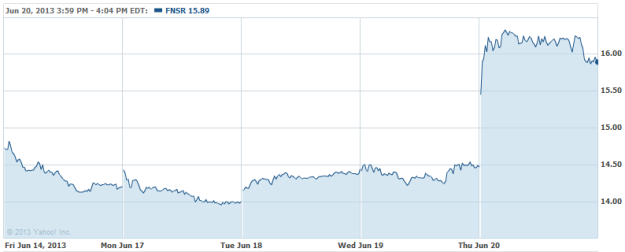 Fifth Third Bancorp (NASDAQ:FITB): Current price $17.78
The company announced on Thursday $560,000 in grants from its Enterprise Investment Fund for the first round of 2013. Directed by Fifth Third's Community Affairs department, the Fund is designated for Community Reinvestment Act initiatives and programs though which to boost CRA lending, investment and service performance across the firm. The Fund distributed $900,000 in 2012 and has spent $2.3 million in local communities since 2011. Fifth Third formed the Enterprise Investment Fund to supply additional Bank resources for local communities.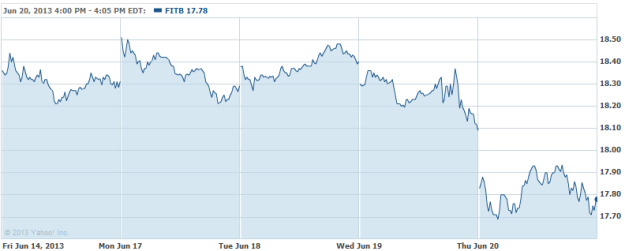 Don't Miss: Apple Supplier: Low-Cost iPhone Will Not Be Cheap.