Apple Granted New Crop of Patents and 3 Tech Titans on the Move
Apple Inc. (NASDAQ:AAPL): Current Price: $457.31
The company has been granted 36 patents today, including one for a proximity sensor for the iPhone and iPad and one for haptic feedback to create a type of virtual keyboard. The patents were approved by the U.S. Patent and Trademark Office and they cover a wide range of technologies, Patently Apple reports.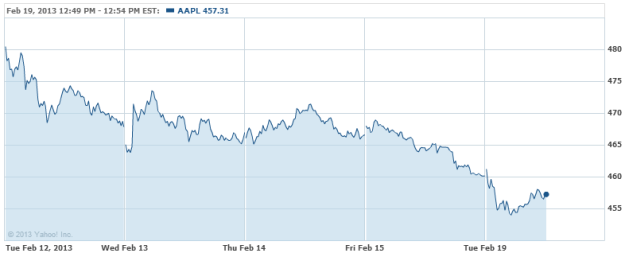 Google Inc. (NASDAQ:GOOG): Current Price: $802.16
Google has begun to develop plans to launch retail stores in the U.S., according to sources. It's another indication that the company is reviewing the ways in which Apple (NASDAQ:AAPL) built a consumer-electronics brand, reports the Wall Street Journal. It is likely that the stores will sell Google-branded hardware, but it is not clear when or where any stores would open. According to one source, they might not even proceed with the plan this year.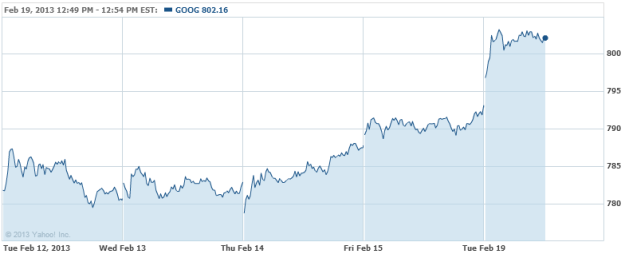 Microsoft Corporation (NASDAQ:MSFT): Current Price: $27.98
Microsoft is about to spend at least $30 million to send the message that it is the best email service across the U.S. The barrage is set to begin on Tuesday when Microsoft's twist on email, Outlook.com, will escalate an assault on rival services from Google Inc., Yahoo Inc., AOL Inc., etc.

Intel Corporation (NASDAQ:INTC): Current Price: $21.13
"Intel is trying to get into the semiconductor market, but ARM is already there," said Mali Venkatesan, an analyst at IDC, a Framingham, Massachusetts-based market researcher. Intel remains the leader in chips for personal computers, but with the PC market shrinking for the first time in a decade in 2012 and poised for another drop in 2013, the company is in need of new businesses to fuel growth.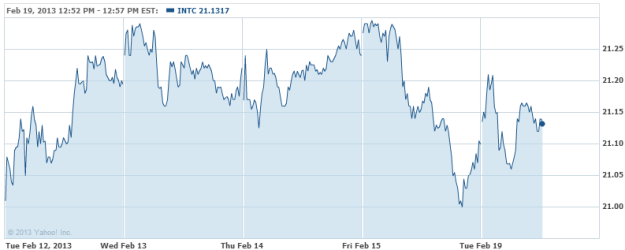 Don't Miss: Is Apple's iMac Worth the Wait?