Apple iPad Mini Retina May See Delay, Rio Tinto Nears Mine Sale, and 3 More Hot Stocks
Apple Inc. (NASDAQ:AAPL): The iPad Mini equipped with Apple's retina display will be delayed, Reuters says. "Apple's supply chain is only now gearing up to make retina displays for the iPad Mini, which means the gadgets could be available in only limited quantities this year, if at all," sources told the publication. More significantly, this means that Apple may miss the crucial holiday shopping season. Meanwhile, rivals are hiking the specs and decreasing the prices of their tablets, putting further pressure on Apple to get the iPad onto shelves.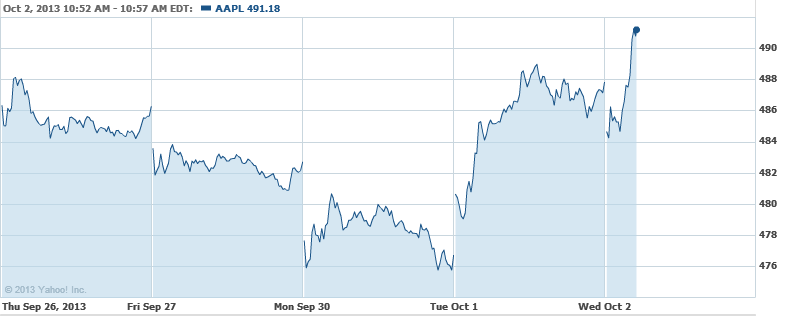 Rio Tinto (NYSE:RIO): Rio Tinto is apparently quite close to selling its Blair Athol coal mine in Australia to Linc Energy for an undisclosed sum. Discussions are reportedly at an advanced stage, and a deal may be announced as soon as Thursday. Rio believes that there may be an estimated 10 million metric tons — at least — of coal left at the mine.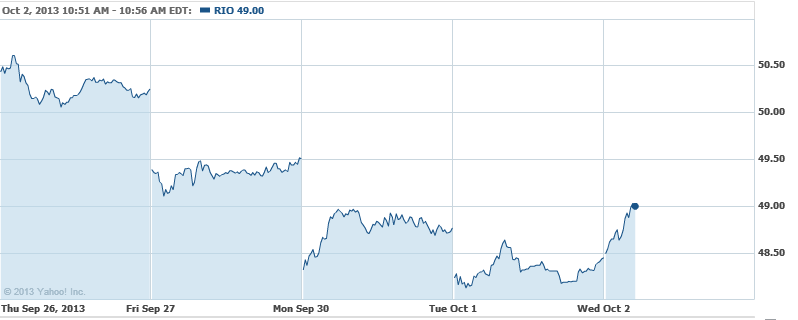 DirecTV (NASDAQ:DTV): As subscriber growth for pay-TV slows, companies like DirecTV and Dish Network (NASDAQ:DISH) are starting to put contingency plans into place to address the fallout when satellite TV ultimately grinds to a halt — which could happen sooner than later, according to Todd Lowenstein, a portfolio manager at Highmark Capital Management. "The end game is near, you have a mature and really structurally challenged satellite-TV business. Both companies are thinking about their next steps now."
Monsanto Co. (NYSE:MON): Fourth quarter EPS of -$0.47 missed estimates by $0.04, while revenue of $2.20 billion also fell shy by $0.04 billion. Seeds and Genomics segment sales totaled $10.3 billion, fueled by its global corn portfolio that gained 13 percent year-over-year. Segment sales in the period were around $1.2 billion, with the segment expected to be the biggest driver of growth, with expectations to mid-teens gross profit growth in the fully-year of 2014.
Alcoa (NYSE:AA): Alcoa is trading down slightly after a downgrade to Sell from Hold with a $5.50 price target, down from $9, at Deutsche Bank. Deutsche sees 2014-2015 aluminum prices falling 12 percent to 13 percent, which cuts its 2014-2015 earnings estimates for Alcoa by more than half. The firm suggests that Alcoa spin off its primary aluminum business to reduce its negative drag and maximize equity value.

Don't Miss: Which Key Market Is Apple Losing Out On?