Apple iPhone Estimates Cut Further, Rio Tinto to Sell Coal Unit, and 3 More Hot Stocks
Apple (NASDAQ:AAPL): Oppenheimer analyst Ittai Kidron has joined the ranks of those cutting their estimates for Apple's iPhone sales, after the firm's checks revealed "steady" iPhone 4 and 4S sales and "mixed" iPhone 5 sales. Kidron says that despite the cuts to its estimates, he maintains an Outperform rating on the shares due to optimism about iPhone and iPad refreshes in the second half of the year.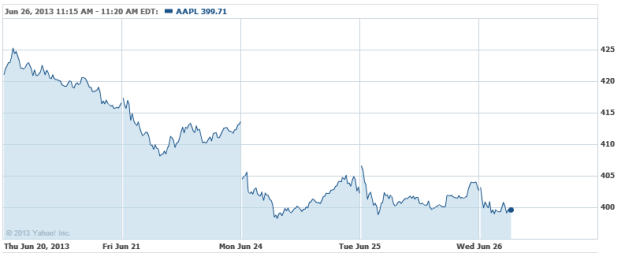 Rio Tinto (NYSE:RIO): In its continuing efforts to shed its peripheral assets, Rio is looking to put its coal unit in Mozambique on the block, either portioned or in full, despite the company's insistance in February that it would not be divesting the block. The unit could be worth more than $700 million, after being written down by $3 billion or so in January.

AstraZeneca (NYSE:AZN): AstraZeneca has pooled its research data with Roche in efforts to improve research and development efforts, as the two have agreed to share limited data on early-stage drug designs by way of a third firm called MedChemica, which analyzes chemical compounds to identify structures that tend to lead to problems with safety or efficacy.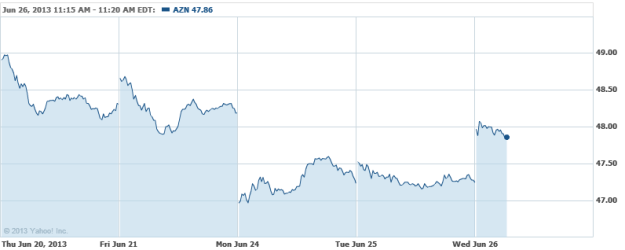 General Mills, Inc. (NYSE:GIS): In-line EPS of $0.53 and a slight revenue miss caused shares to edge downward slightly Wednesday morning, even though international sales rose 26.8 percent to $1.437 billion during the quarter and U.S. Retail revenue increased 2.0 percent to $2.471 billion. However, the outlook isn't raising any pulses, as the company predicts 2014 sales to grow at a low single-digit rate to $18 billion, while EPS is expected to fall in a range of $2.87 to $2.90 versus a $2.93 consensus estimate.

Monsanto Company (NYSE:MON): A solid EPS figure of $1.65 beat estimates by $0.05, while revenue came in $0.16 billion short, at $4.25 billion. The company reaffirmed its fully year 2013 EPS guidance of $4.50-$4.55, which is still below the $4.60 analyst consensus. Total sales of seeds and genomics came to roughly $3.1 billion, while year-to-date sales tracked $569 million over last year.