Apple iWatch Rumors Swirl and 3 Tech Titans on the Move
Apple Inc. (NASDAQ:AAPL): Current Price: $480.59
Both The New York Times and the Wall Street Journal just released stories that claim that "Apple is experimenting with wristwatch-like devices made of curved glass," at its Cupertino HQ and "the company has discussed such a device with its major manufacturing partner Hon Hai Precision Industry Co.," aka Foxconn. The WSJ continues to expound that Foxconn has been working to address the challenges of making displays more power-efficient and working with chip manufacturers to strip down their products.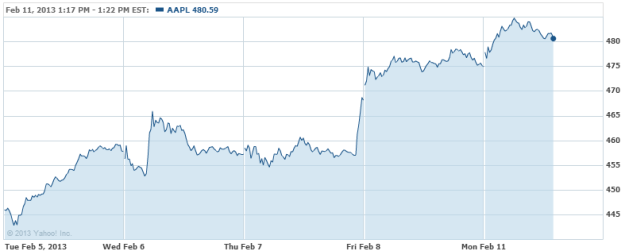 Google Inc. (NASDAQ:GOOG): Current Price: $777.46
Google's Executive Chairman, Eric Schmidt, is prepared to unload a good bit of his Google holdings, according to a regulatory filing. An 8-K filed with the SEC Friday shows that Schmidt, previously Google's Chief Executive, will sell as many as 3.2 million of his current 7.6 million shares, a stake worth slightly over $2.5 billion at Friday's closing price of $785.37.
Are these stocks a buy or sell? Let us help you decide. Check out our Stock Picker Newsletter now.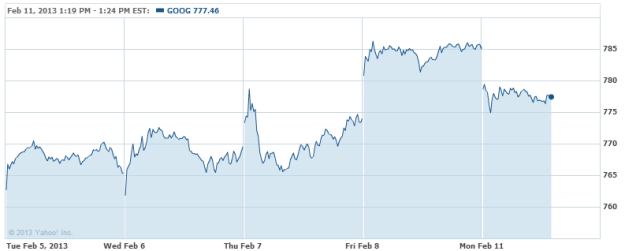 Microsoft Corporation (NASDAQ:MSFT): Current Price: $27.68
Australian officials have started to look into whether Apple, Microsoft and Adobe charge too much for their products in the region. The Committee for Infrastructure and Communications within Australia's House of Representatives are scheduled to hold a hearing on Friday, March 22 to examine the issue. In a news release, the committee stated that it has issued summonses to the three tech firms to appear at that hearing.

Intel Corporation (NASDAQ:INTC): Current Price: $21.04
Intel has announced its expected Kittson, the 22nm successor to the 32nm Poulson, would actually be 32nm. Kittson is no longer a shrink and it has been reduced to essentially low hanging fruit and bug fixes. It uses the same socket and boards as the current Tukwilla and Poulson CPUs and it converges on a common socket with x86 Xeons.

Don't Miss: Analyst: Apple is Ready With Dividend News.