Apple Judge Questions Need for Parallel Cases and 4 Hot Stocks Trading Today
Carnival Corporation (NYSE:CCL): Current Price: $37.20
It is possible that Carnival will have to face waves of lawsuits from passengers who suffered on the company's Triumph cruise ship, The New York Times reports. The fact that Triumph had mechanical problems last month prior to leaving on its last ill-fated cruise may have the potential to add to Carnival's legal woes, the newspaper reported. The growth of the cruise industry likely won't see a slow down as a result of the incident, according the newspaper as quoting Matthew Jacob, an analyst with ITG Investment Research.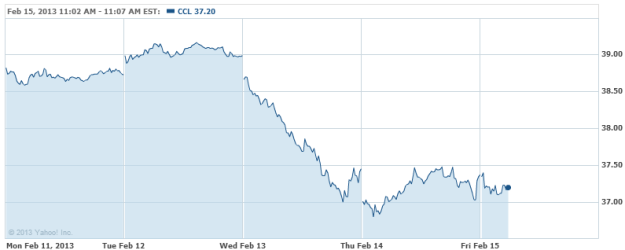 Transocean Ltd. (NYSE:RIG): Current Price: $56.28
Last night, the company issued a monthly fleet update summary and the value of new contracts or extensions since the January 17, 2013 fleet status report totals about $530 million. Estimated 2013 out of service time saw an increase of a net 136 days, including 90 days associated with rig maintenance on the Cajun Express and 75 days resulting from shipyard acceleration into 2013 from 2014 on the GSF Galaxy I. A preliminary review of anticipated projects are scheduled to begin in 2014, showing about 2,131 days of scheduled out of service time for Transocean's fleet including nearly 1,534 days for High-Specification Floaters, 440 days for Midwater Floaters, and 157 days for High Specification Jackups.

Herbalife (NYSE:HLF): Current Price: $42.75
Hedge fund manager William Ackman recently called Herbalife a pyramid scheme and he said that the biggest risk in shorting the company was whether or not regulators would take time to focus on the matter. "Could we get the SEC, the FTC and the regulators around the world interested?," he asked, according to Reuters.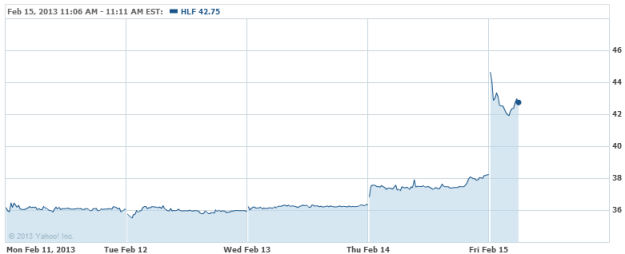 Apple Inc. (NASDAQ:AAPL): Current Price: $467.16
In San Jose, CA, U.S. District Judge Lucy Koh asked Apple and Samsung Electronics (SSNLF) whether or not an Apple patent lawsuit concerning search technology should be halted for a few months until after an appeals court is able to resolve a separate lawsuit between the two companies, according to Reuters. Koh said, "I just don't know if we really need two cases on this." According to an Apple attorney, the cases should proceed in parallel due to the fact that they involve different patents. However, a Samsung attorney has stated that there was substantial "overlap" between the two proceedings. Koh ordered the attorneys for both sides to discuss the idea and report back by March 7.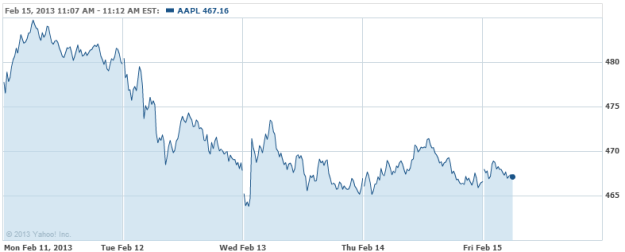 Facebook, Inc. (NASDAQ:FB): Current Price: $28.42
The company was able to win a court battle against a German privacy watchdog that stated that the company's policy requires users to register with their real names, the Associated Press reports. The watchdog claimed that it would appeal the court decision and says the ban on fake names is a breach of German privacy laws.

Don't Miss: Analyst: iPad Upgrades Coming Before April.