Apple Looks to Finance iRadio, Microsoft Plans Big Overhaul, and 3 More Hot Stocks
Apple (NASDAQ:AAPL): Prior to its expected debut at the WWDC next week, Apple's advertising wing has been reportedly courting major brands to purchase ad space for iRadio, to help Apple secure a slice of the $4.1 billion U.S. mobile ad market. The resulting revenue will be split with the studios that Apple has been working with to secure licensing for its radio streaming program.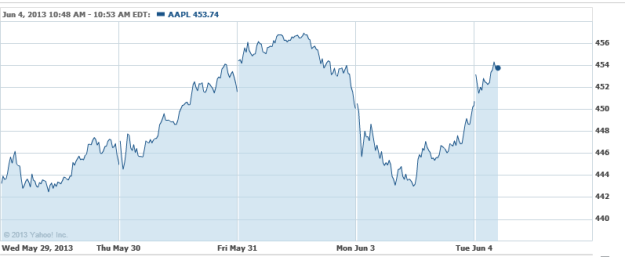 Microsoft (NASDAQ:MSFT): Microsoft's Steve Ballmer is indeed said to be planning a broad restructuring effort, to help improve communication across divisions, as well as aimed at reducing the number of business units from eight to four and putting more focus on devices and services. Select executives would likely accrue more responsibilities in the process, including the heads of Xbox, Skype, Servers, and other units.

HSBC (NYSE:HBC): HSBC is being sued by New York Attorney General Eric Schneiderman for a breach in state law, as Schneiderman alleges that the bank did not provide distressed homeowners the opportunity to negotiate loan modifications when they fell into the foreclosure process. New York requires that banks provide a settlement conference, and HSBC appears to have let the paperwork that would have triggered that conference fall by the wayside.

Salesforce.com (NYSE:CRM): Salesforce is shelling out $2.5 billion, or $33.75 per share in cash, for email marketing firm ExactTarget (ET), a 53 percent premium on the firm. The company expects the purchase to reduce its 2014 non-GAAP EPS by about $0.16. Salesforce has also pledged to incorporate ExactTarget's technology into its own cloud service, but investors are not seemingly thrilled by the prospect, as shares are over 5 percent down in early trading.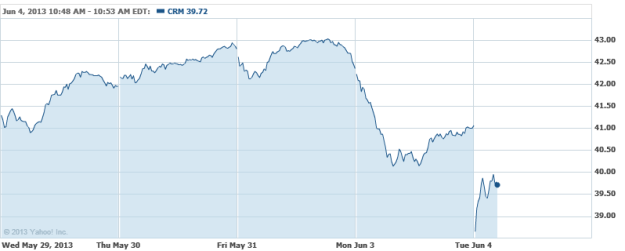 Don't Miss: Will Apple's Flawed Marketing Strategy Cause It to Sink?