Apple Makes Amends With China and 4 Other Hot Stocks
Days following CEO Tim Cook's apology to China for the way it handled its public relations tangle with People's Daily, the country's state-run media giant, it seems Apple (NASDAQ:AAPL) has further bowed to China's wishes, by removing an app from its online store in China that provides access to books by author Wang Lixiong, whose works are for the most part banned in the country. Apple would only say that the app included "content that is illegal in China." In the U.S., retailers have slashed costs on the third generation iPad and iPad Mini, paving the way for what could be a launch of the next generation of the best selling tablet.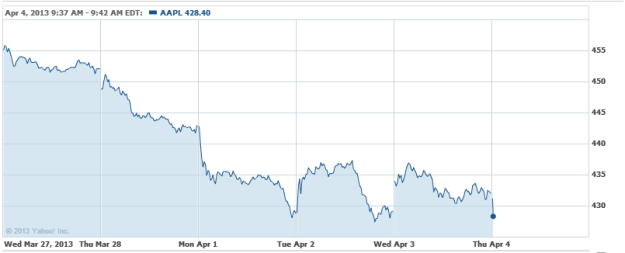 Although it has long had a reputation for being continuously short-staffed, Wal-Mart (NYSE:WMT) is now facing a growing problem of perpetually under-stocked shelves, which the New York Times and several grocery chains have been paying increasing attention to. Shoppers are now choosing to shop elsewhere, as they face growing difficulties finding basic items. It's not as though the merchandise isn't there, said Bloomberg. It's piling up in aisles and in the back of stores because Wal-Mart doesn't have enough bodies to restock the shelves, according to interviews with store workers. Costco (NASDAQ:COST) and Target (NYSE:TGT) have been two companies, among others, which have benefited from Wal-Mart's shortcomings.
Delta Airlines (NYSE:DAL) is suing the export-Import Bank of the United States, over loan guarantees that support purchases of Boeing (NYSE:BA) aircraft by certain foreign airlines. Delta said that the subsidies for the foreign carriers — including Emirates Airlines, Etihad Airways, and Korean Air – would cause adverse economic effects on airlines and their employees, Reuters reported.
"These foreign airlines will recoup their investment in their new aircraft faster or reduce ticket prices on competing routes without adversely impacting their relative rate of return on those investments," Delta said in the filing, and argued that unsubsidized U.S. airlines will be forced to respond by "reducing their prices and reducing or altogether eliminating their capacity to serve those routes where they compete with bank-subsidized foreign airlines."
German regulators are probing accounts under the charge of Deutsche Bank (NYSE:DB), following allegations made by a U.S.-based whistleblower accused the bank of false valuations. Sources said that the German central bank is acting in response to claims that Deutsche Bank had incorrectly valued credit derivatives from 2007 through 2010, allowing it to hide as much as $12 billion in losses. Germany's Bundesbank and financial watchdog Bafin are overseeing the investigation.
Ariad Pharmaceuticals (NASDAQ:ARIA) has reason to celebrate this morning. Just 12 weeks following its launch, 325 U.S.-based patients are being treated with its Iclusig drug for myeloid leukemia, and the company foresees EU approval in the second quarter, with a regional drug launch in July. Iclusig is Ariad's first product to reach the market. The company is also on track to start Phase 2 pivotal trials of its AP26113 (lung cancer, brain mestastases) drug in the third quarter.
Don't Miss: Apple iWatch: Will It Be a Big Flop?