Apple Plans China-Only Device and 4 Hot Stocks Trading Now
Bank of America (NYSE:BAC): Current Price $11.93
Bank of America Corp hopes to sell collection rights on a minimum of another $100 billion worth of mortgages in the wake of announcing a $300 billion sale in mortgage servicing rights on Monday, claim two sources who are familiar with the situation.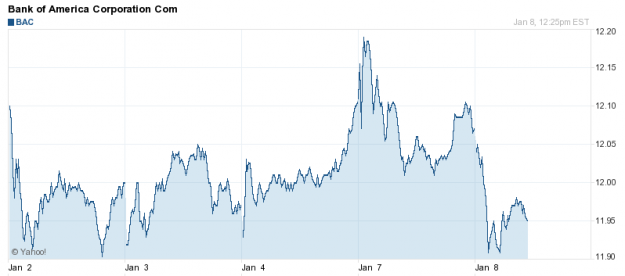 Save time and make money with our LOWEST ADVERTISED PRICE EVER to help you achieve your financial goals in 2013. This is a LIMITED TIME OFFER, so get your Stock Picker Newsletter now!
Apple Inc. (NASDAQ:AAPL): Current Price $521.94
Apple is working has begun to work on a low-cost iPhone for emerging markets globally, according to a new report. Apple has begun to work on an iPhone for China and emerging markets, which would launch during 2013, reports Digitimes, citing sources in Apple's supply chain. The sources claim that the iPhone is to feature a large display, but will have a revamped design and far less expensive than the current handset.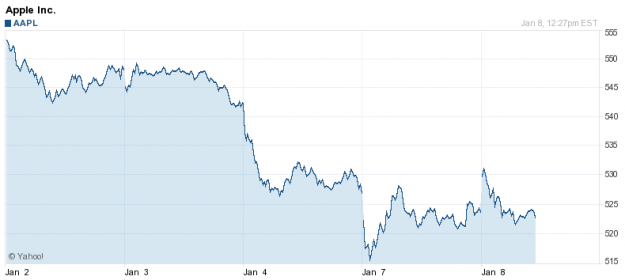 Should you buy or sell Apple's stock ahead of earnings this month? Our 20-page proprietary analysis will help you save time and make money. Click here to get your SPECIAL REPORT now.
Facebook, Inc. (NASDAQ:FB): Current Price $29.00
The entertainment industry one of the first to embrace Facebook since Studio executives believed that the giant social network seemed that it would have the ability to reach moviegoers for less money than most advertising such as trailers and TV ads. Facebook's origins were even recorded in the 2010 Academy Award-winning movie "The Social Network."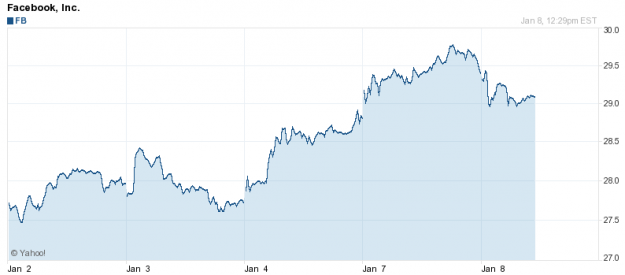 Are these stocks a buy or sell? Let us help you decide. Check out our Stock Picker Newsletter now.
AT&T, Inc. (NYSE:T): Current Price $34.50
AT&T sold over 10 million smartphones during 2012's Q4, as it's topped its previous record quarter of 9.4 million, which was set during 2011's Q4, including the best-ever quarterly sales of Android and Apple smartphones. Ralph de la Vega, who is president and CEO for AT&T Mobility stated, "During the quarter, we averaged more than 110,000 smartphone sales a day as customers flocked to our leading portfolio of the latest Android, Apple and Windows devices."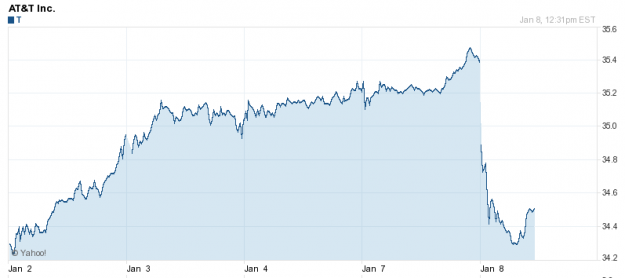 Nokia Corporation (NYSE:NOK): Current Price $4.04
Indian tax officials have raided a Nokia Corp. facility located in Chennai, India, which is one of the Finnish handset maker's largest plants. According to Nokia spokesman Brett Young, there was no reason given by Indian authorities abd the company wasn't able to provide further details on the Tuesday raid. "Nokia is fully cooperating to ensure they get the necessary information to help in their inquiry," he said.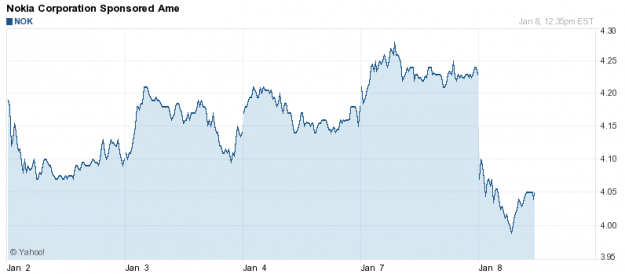 Don't Miss: The iPad is a Mad Profit Machine.