Apple Pressures Cook on New Products, UBS Pays for Lehman Debacle, and 3 More Hot Stocks
Apple Inc. (NASDAQ:AAPL): Apple's board is reportedly taking CEO Tim Cook to task over the company's rate of innovation, or lack thereof. Fox News's Charlie Gasparino said that a recent shortage of  new products is "manifesting into pressure on Tim Cook to basically innovate, do something fast." Gasparino does note, though, that "this doesn't mean that Tim Cook is out of a job," and he doesn't "believe that's happening, and sources inside Apple are telling us that's not the case."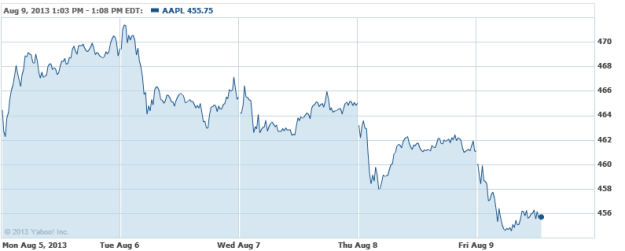 UBS AG (NYSE:UBS): UBS is going to pay $120 million to settle claims related to the bank's sale of $1 billion in Lehman-structured notes between March 2007 and September 2008. Investors are alleging the bank "of making materially false and misleading statements in offering documents about Lehman's financial condition."

Ford Motor Co. (NYSE:F): Ford's Russian joint venture is planning to scale back its production at its plant near St. Petersburg, given that demand for the compact cars made there has seen dramatic reductions. The plant — which produces 125,000 cars per year with 3,000 employees — has experienced "changes in customer demand with shifts between market segments" that has resulted in a 16 percent decline this year in the compact car segment. The Ford Focus, made at the plant, is the segment leader.


Merge Healthcare Inc. (NASDAQ:MRGE): Merge shares are off significantly to the tune of 45 percent as earnings per share of 1 cent missed by 4 cents, and revenue of $57.2 million missed by $8.28 million. The company owes the disappointment to "continued reluctance amongst large health systems to move forward with enterprise purchases"; CEO Jeffery Surges also announced his resignation. He will be replaced by Justin Dearborn, who has previously served as Merge's CEO and chief financial officer, and most recently held the position president and CEO of Merge's DNA unit.

Enbridge Inc. (NYSE:ENB): Enbridge has asked the Environmental Protection Agency for an extension to continue its dredging along the Kalamazoo river in Michigan to clean up after a July 2010 oil pipeline spill. The company said that the request to extend the deadline past December 31st is necessary in part due to opposition by some area residents to parts of the work, Seeking Alpha notes.