Apple Pulls Mac Pro From Europe and 3 Hot Stocks Moving Now
Medtronic, Inc. (NYSE:MDT): Current price $45.83
According to Track Data, Medtronic, Inc.'s overall option implied volatility of 25 is above their 26-week average of 21. This suggests larger price movement backing their 2013 revenue growth view of 3%-4%.

Vodafone Group PLC. (NASDAQ:VOD): Current price $25.26
BAE Systems (BAESY) and Vodafone Group announced the formation of a strategic, five-year partnership to provide businesses with a range of advanced communications security products and services initially focused on smartphones and tablets. Additionally, BAE Systems announced that they intend to select Vodafone as their preferred supplier of mobile communications worldwide, excluding the United States. The first commercial element of the strategic partnership between Vodafone and BAE Systems will be a new cloud-based mobile security solution, Vodafone Mobile Threat Manager, to be brought to market in the Spring of 2013 and will be initially available to Vodafone's largest 1,500 global enterprise customers. Vodafone is additionally discussing the supply of Unified Communications to BAE Systems in the U.K.

American Woodmark Corp. (NASDAQ:AMWD): Current price $35.64
American Woodmark Corporation announced results for the third quarter that ended on January 31, 2013 of their fiscal year that ends on April 30, 2013. The company reported third quarter revenue of $151.35 million and a consensus $140.55 million.

Apple Inc. (NASDAQ:AAPL):  Current price $455.01
Consumers in Europe who are looking for a Mac Pro are now out of luck. Apple's online stores in the United Kingdom, Italy, Germany, France, and other European countries show all three editions of the Mac Pro as "currently unavailable." The news isn't exactly a surprise as Apple told European retailers and distributors last month that they will stop selling the Mac Pro on March 1 due to new safety regulations. The regulations impose certain electrical requirements and the Mac Pro's ports and fans are not in compliance.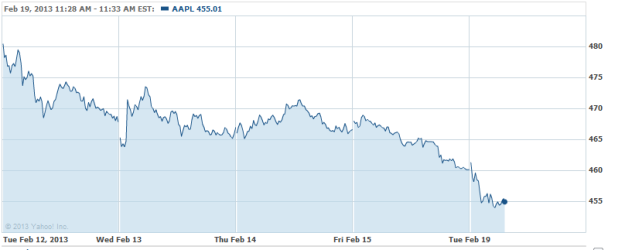 Don't Miss: Is Apple's iMac Worth the Wait?