Apple Readies for Holiday Release, Health Management to Get New Board, and 3 More Hot Stocks
Apple Inc. (NASDAQ:AAPL): Although the rumored iPad Retina wasn't supposed to launch until next year, Bloomberg has received word that the company is gearing up for a release in the fourth quarter of the calendar year, just in time for the holiday season. The publication's source indicated that Apple will unveil a new iPhone at a September 10 event, along with a new slate of redesigned iPads and software.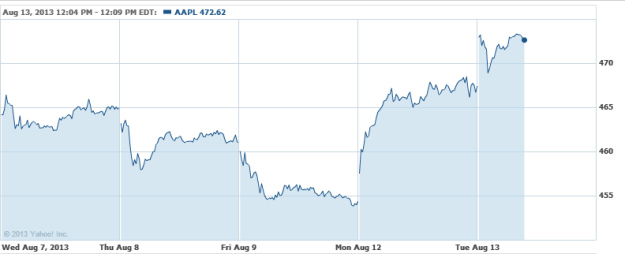 Health Management Associates Inc. (NYSE:HMA): A majority of Health Management shareholders have voted to oust the U.S. hospital company's board and replace it with a slate of directors submitted by activist investor Glenview Capital. The company's $3.9 billion sale to Community Health Systems (NYSE:CYH) is now looking dubious, as Glenview sees the deal as being too cheap.

Lloyds Banking Group PLC (NYSE:LYG): Lloyds has reportedly received bids for its asset-finance and commercial-lending units that put the value of the businesses at more than 1 billion Australian dollars, or roughly $910 million. Lloyds, the U.K.'s largest mortgage lender, is offloading assets it no longer considers essential as it shrinks its balance sheet after a government bailout in 2008, Bloomberg reports.

Morgan Stanley (NYSE:MS): As banks involved in the commodities sector are being put under increasing scrutiny for possible manipulation practices, Morgan Stanley has apparently restructured its commodities unit to include having some U.S.-based sales staff report to traders in an attempt to make the division more efficient, The Wall Street Journal says.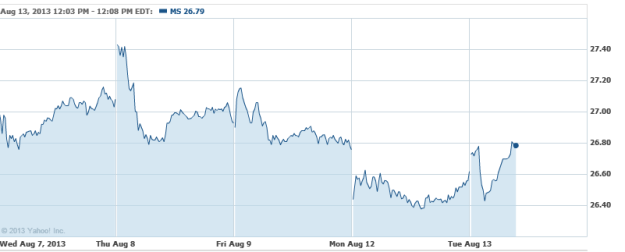 Whirlpool (NYSE:WHR): Whirlpool has bought itself a majority stake in Hefei Rongshida Sanyo Electric for 3.4 billion yuan, or $552 million. The appliance company says the deal to buy the Chinese electrical appliances manufacturer will be completed by the end of 2014 and will be accretive in the first full year of integration.

Don't Miss: Analyst: Apple Set to Return to Growth.