Apple Surpasses Samsung in Phone Maker Race and 4 Hot Stocks Moving Now
National Oilwell Varco, Inc. (NYSE:NOV): Current Price: $70.87
The company reports a Q4 revenue totaling $5.69 billion, consensus $5.3 billion.

Pfizer Inc. (NYSE:PFE): Current Price: $27.76
Pfizer has begun to fight claims that Zoloft is not effective and that patients should be reimbursed for their costs, according to the Associated Press. The company describes the lawsuit as frivolous and informs the AP that "clinical studies and the experience of millions of patients and their doctors over two decades prove Zoloft is effective."

Are these stocks a buy or sell? Let us help you decide. Check out our Stock Picker Newsletter now.
Ocwen Financial Corp. (NYSE:OCN): Current Price: $39.49
Ocwen Financial Corp. continues to be the top candidate to purchase a portfolio of mortgage collection rights from Ally Bank with a value of about $1 billion, sources say, reports Reuters.

Merck & Co. Inc. (NYSE:MRK): Current Price: $42.04
Merck has reported that it recently received and has begun to review safety and efficacy data from the pivotal Phase III trial of odanacatib, which is the company's investigational medicine for osteoporosis. As previously stated, the company has been conducting a blinded extension of the trial in about 8,200 women, which is to provide more safety and efficacy data. Now, Merck has begun to anticipate that it will file applications for approval of odanacatib in 2014 with additional data from the extension trial instead of filing during the first half of 2013. The company is still convinced that odanacatib will have the potential to address unmet medical needs in patients with osteoporosis.

Apple Inc. (NASDAQ:AAPL): Current Price: $450.00
Apple has passed Samsung Electronics (SSNLF) and is now the top mobile-phone maker in the U.S., according to Bloomberg. Apple sold 17.7 million mobile phones in the U.S. in Q4, which is a 38 percent rise from the previous year, research firm Strategy Analytics reported today. This means that Apple accounted for 34 percent of the market and Samsung has a 32 percent market share. Total shipments saw a rise of 4 percent during the quarter to 52 million phones.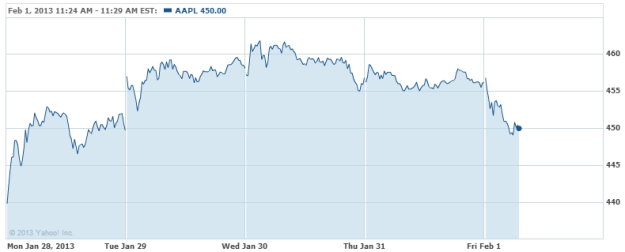 Don't Miss: The iPhone is Taking Over.