Apple Talks 5-inch iPhone, Novartis's Solid Performance, and 3 Hot Stocks to Watch
Apple (NASDAQ:AAPL): In all the hustle and bustle amid Apple's quarterly earnings release yesterday, a small note made by CEO Tim Cook made a rather confirmatory statement towards the end of the earnings call, regarding Apple's plans to jump into the five-inch smartphone market — in short, it isn't. "Some customers value large screen size. Others value other factors, such as resolution, color quality, white balance, screen longevity, portability, compatibility," said Cook, when asked what he thought of the five-inch smartphone market. "Our competitors have made some significant trade-offs in many of these areas in order to ship a larger display. We would not ship a larger display iPhone while these trade-offs exist."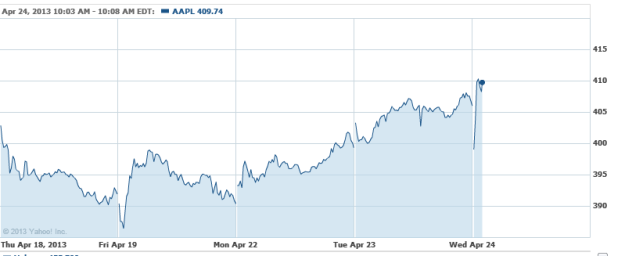 Novartis (NYSE:NVS): Novartis had a fairly solid quarter, beating its earnings per share by $0.04 with earnings of $1.32, and although it missed revenue by $0.02 billion, its final figure of $14 billion was enough to lift it 2 percent year-over-year. The company landed eight key regulatory approvals during the quarter, and made significant pipeline progress, offering an optimistic outlook for the firm's future. It left its 2013 group outlook unchanged.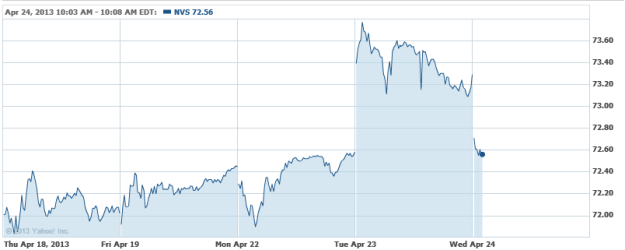 Credit Suisse (NYSE:CS): Though it has reported overall strong performance, the bank barely missed earnings estimates by $0.01, with earnings of $0.85. Though down year-over-year, Private Banking and Wealth Management performed solidly, posting profits of CHF 881 million for the quarter. Investment banking returns of CHF 1.3 billion grew year-over-year, and helped offset sluggish performance in other areas. Note: CHF 1.00 = $1.057.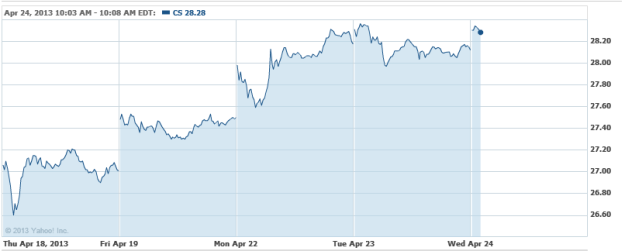 Eli Lilly (NYSE:LLY): Earnings of $1.14 beat estimates by $0.08, although revenue fell just short, coming in at $5.6 billion, or $0.06 billion under projections. The revenue remains flat year-over-year, while earnings grew 24 percent over last year. "Lilly delivered solid financial results in the first quarter of 2013 despite numerous headwinds, as growth in several key products and regions offset the post-patent decline in Zyprexa, a weaker Japanese yen and a slowdown in parts of our animal health business," said John C. Lechleiter, Ph.D., Lilly's chairman, president and chief executive officer.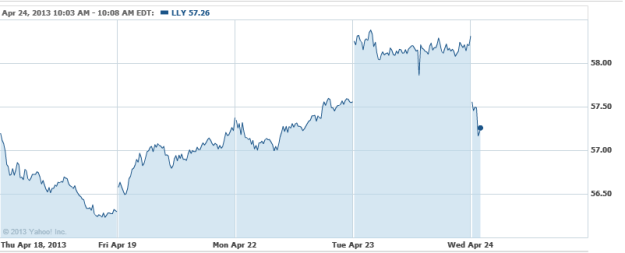 Barrick Gold (NYSE:ABX): Despite running into numerous hardships recently, Barrick Gold was able to surpass earnings expectations, although revenue fell shy. Earnings per share of $0.92 beat by $0.03, while revenues of $3.44 billion missed estimates by $0.29 billion. Reduced copper and gold prices and decreased volume caused an 18 percent decline in profits, although the company reaffirmed its 2013 guidance of 7 million to 7.4 million ounces.

Don't Miss: Apple's New Patent is Another Step Toward Heightened Security.