Apple was Awesome in 2010. Which of These Tech Leaders Will Dominate 2011?
Apple (NASDAQ:AAPL) is one of the hottest companies in the world. Steve Jobs has delivered nicely to shareholders again — especially when compared to the other tech leaders Google (NASDAQ:GOOG), Intel (NASDAQ:INTC), Microsoft (NASDAQ:MSFT), Cisco (NASDAQ:CSCO), Hewlett-Packard (NYSE:HPQ), Dell (NASDAQ:DELL), and Research in Motion (NASDAQ:RIMM).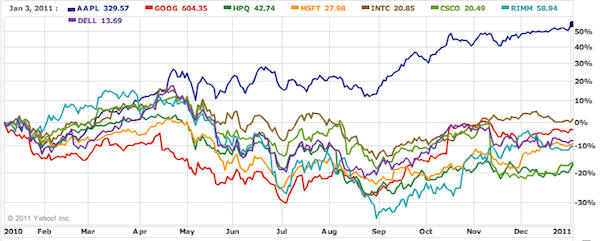 Relatedly, Apple also kicked so much ass in 2010 that only Exxon (NYSE:XOM) has a larger market capitalization.
However, the past is rarely a great indicator for the future. So, which of the company above do you anticipate to lead the pack in 2011? Or, do you think a company like Netflix (NASDAQ:NFLX) will still take the cake? Let us know in the comments below …
Start Off 2011 by Improving Your Financial Health: Join the winning team of stock pickers with Wall St. Cheat Sheet's acclaimed premium newsletter >>