Apple's Big Hiring Agenda, Barrick Gets Moving on Pasuca Lama, and 3 More Hot Stocks
Apple (NASDAQ:AAPL): Apple is going on a hiring spree, with the intention of hiring about 7,400 more employees at its Cupertino campus between now, and the new "spaceship" headquarters completion in 2016. Apple currently employs about 16,000 people in the Cupertino area, which cost the company roughly $2 billion in payroll last year. The hiring is a good sign that Apple believes it can maintain its sales rates and momentum into the future.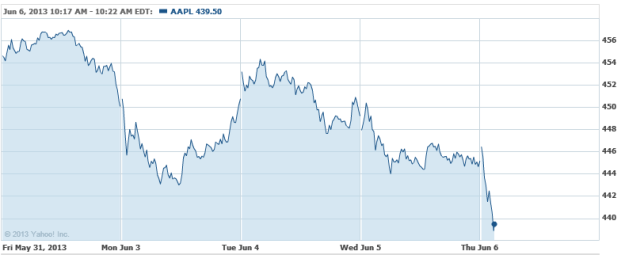 Barrick Gold Corp. (NYSE:ABX): On the heels of a further delay for its Pascua Lama project, the company stated that it will be submitting its water management plan to Chilean regulators after they initiated a halt on construction due to waste water concerns. The company could not yet say what impact implementing the water plan would have on the timing and cost of the project, but that it would be submitting the proposal "imminently".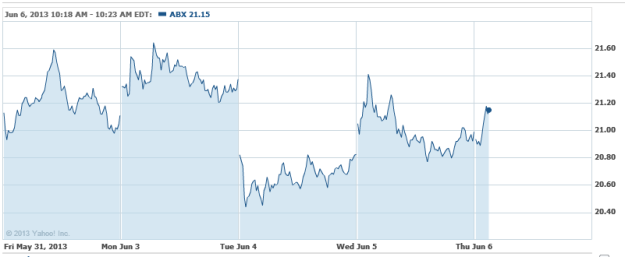 Ecolab Inc. (NYSE:ECL): The company's Nalco division might be on the verge of inking deals for stakes in Indian water companies, in order to meet increasing demand for treated water in the country. India plans to spend $20 billion on water treatment, irrigation and recycling in the five years that end in March of 2017.

Furniture Brands International, Inc. (NYSE:FBN): Shares of Furniture Brands soared in trading on Wednesday, in what appears to be a short squeeze. The company's stock performance has been up and down, following a reverse 1:7 split last week. The company now has roughly 4 million shares that are shorted, as it was a lightning rod for short interest last summer.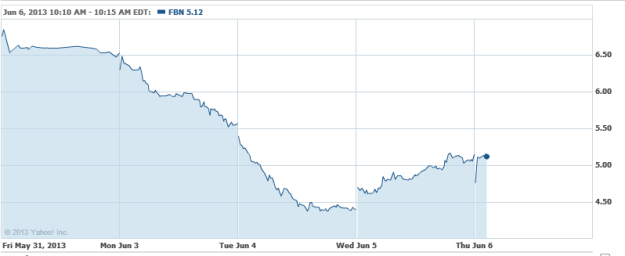 Barclays Plc (NYSE:BCS): Sumitomo Mitsui Banking of Japan has shed about half of its $800 million stake in the bank, which it obtained in June of 2008 for 296 pence per share during a fundraising effort by Barclays. It has unloaded about $400 million of that, selling the shares for 308 pence per share.

Don't Miss: Is This Official Proof of an iWatch?