Apple's Cook Sheds Some Insight, Morgan Stanley Launches New Fund, and 3 More Hot Stocks
Apple (NASDAQ:AAPL): "We have some incredible plans that we have been working on for a while," said Tim Cook at an AllThingsD conference. For those holding out for the Apple TV, your patience could pay off, as Cook pointed out that the market is still one of "great interest." Also hinted at was a larger iPhone, wearable tech, and more developer options for customizing iOS. More importantly, Cook offered a brief glimpse into where Apple's head was at with new products.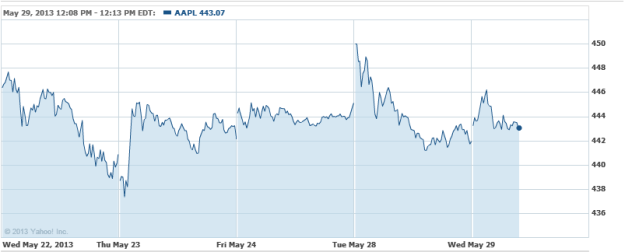 Morgan Stanley (NYSE:MS): The bank's real-estate department, Msref, is apparently mounting efforts to raise the capital needed for a new $1-3 billion global property fund, and hopes that China Investment Corp., with its 6.4 percent stake in the bank, will become an anchor investor. However, other large investors (New York State Common Retirement Fund, for example) may be more apprehensive as Msref has burned them previously.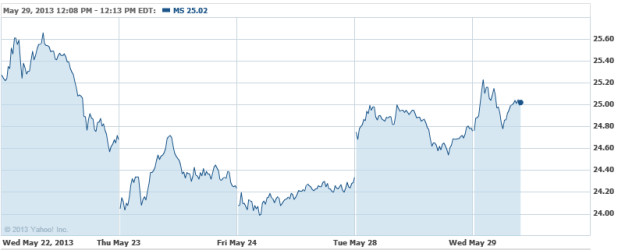 Deutsche Bank (NYSE:DB): Deutsche, along with other top German banks, fell about 14 billion euros shy of meeting the Basel III requirements at the end of last year, though it's a significant improvement from the 32 billion short previously. The banks have until 2019 to come into full compliance with the new code.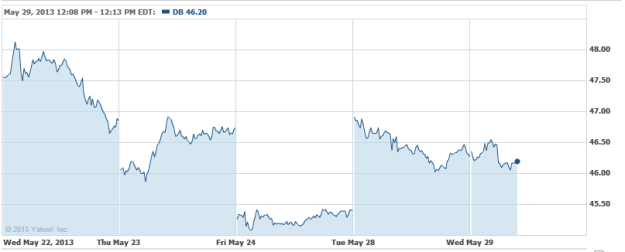 KKR (NYSE:KKR): The bidding war is on, as private equity firms KKR, Carlyle Group (NYSE:CG), and Blackstone (NYSE:BX) are offered a June 14th deadline to submit offers for Australia's Optus Satellite, which carries a value of about $1.9 billion. Slowing growth has pushed SingTel, Southeast Asia's largest telecom operator, to put the unit up for auction.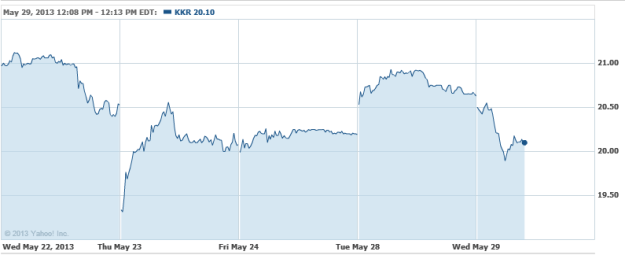 Don't Miss: Will This Apple Store Ruin Downtown San Francisco?