Apple's Fashion Frenzy Continues and 4 Other Hot Stocks
Following a tour of Chinese and Taiwanese Apple (NASDAQ:AAPL) suppliers, analyst Brian White believes that the company is still intending to produce a TV, as early as this year, and with one extra addition that has eluded the rumor mill so far: the system would be controlled by a ring, mounted on the user's finger, and transmit motions and gestures as commands for the unit. White also believes the "iTV" will come with a "mini iTV" screen that will allow users to view content on a smaller 9.7-inch display — the same diagonal screen size as a full-size iPad. He believes this secondary display could also be used for home security, phone calls, video conferencing and more.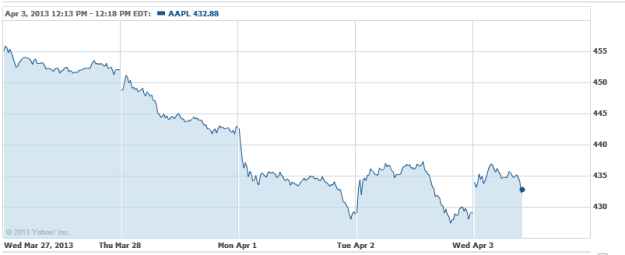 The Monsanto (NYSE:MON) corporation has raised its guidance for the full year 2013 earnings per share, which now sits at $4.40 to $4.50. Full year 2013 EPS guidance on an as-reported basis is expected in the range of $4.42 to $4.52 per share. The company enjoyed a strong first half of its fiscal year, bringing in $5.5 billion is the last quarter, and growing its net sales by $1.2 billion, or 17 percent, for the last six months. The company affirmed its previously announced full year free cash flow guidance of $1.8 billion to $2 billion, and expects net cash provided by operating activities to be $2.9 billion to $3.3 billion, according to Monsanto's PR release.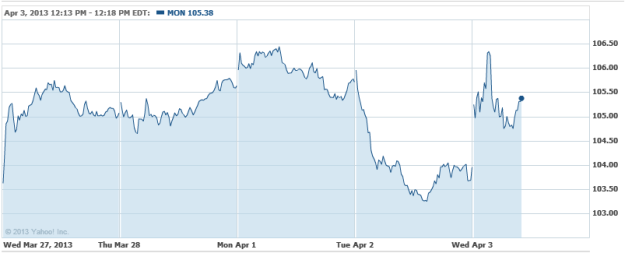 If you've got some extra cash laying around, and have always wanted to own your own coal prospects, Rio Tino (NYSE:RIO) might just have the answer for you. The company is reportedly looking to sell of stakes of its Australian thermal coal mines, in sales that could reap the company about $3 billion. the largest sale is a 29 percent holding of the Coal & Allied unit, and the company is also eager to move its stakes in the Clermont and Blair Athol mines, MarketWatch is reporting. Deutsche Bank was chosen to oversee the sale.

When the mortgage market went sour and numerous banks lost immense amounts of money, Wells Fargo (NYSE:WFC) plowed forward when others couldn't run fast enough. It seems the strategy paid off, as Wells Fargo accounted for 28.8 percent of all home loans issued last year, as "production" hit a record $524 billion. While strategy has brought massive profits, questions are being raised about what the bank will do after the refinancing boom, which has driven its growth, slows back down.

ConAgra Foods (NYSE:CAG) has announced its third quarter results, with comparable earnings per share growth even with the inclusion of significant increases in marketing operations. The company also reaffirmed its full year earnings per share guidance, and much to the investors joy, announced a $0.25 dividend per share for the quarter ending May 31. "Consumer Foods operating profit increased on a comparable basis, including an approximate 33 percent increase in base business marketing investment," the company said. "The increase in investment reduced the quarters EPS by approximately $0.04 per diluted share. Segment sales increased 7 percent, driven by acquisitions."
Don't Miss: Is Steve Jobs Still Guiding Apple's Pipeline?