Apple's iPad Mini Demand To Decline and 3 Other Hot Stocks
Apple (NASDAQ:AAPL): Digitimes is reporting that iPad Mini shipments are expected to drop by some 20 percent to 30 percent in the second quarter of 2013, citing upstream sources that said the demand for the baby tablet was weakening. The sources noted that it was likely due to consumers holding off on purchases until the next generation is released. LG Display, which is the main supplier for the iPad and iPad Mini panels, expects panel shipments to drop from 5 million to 3.5 million for April, and drop further to 3 million for May and June.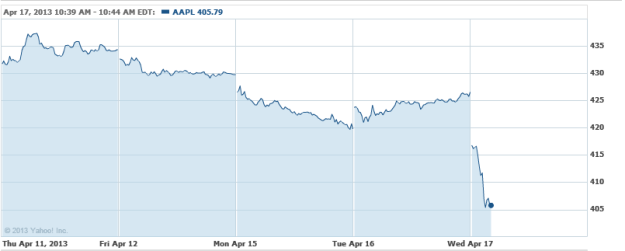 Abbott Laboratories (NYSE:ABT): Abbott has beaten its Q1 earnings per share estimates by $0.02, with $0.42 per share. Revenue of $5.38 billion missed projections by $0.04 billion, and the company reaffirmed its full year guidance. The nutrition division grew 9 percent, and almost 15 percent internationally, while diagnostics grew 6.4 percent. Emerging market sales expanded by over 15 percent on an operational basis, plugging in $2.2 billion for the first quarter.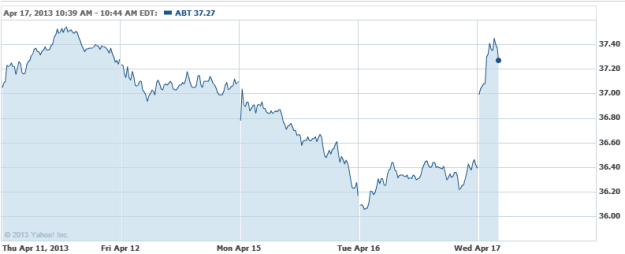 Mattel (NASDAQ:MAT): Mattel has declared earnings per share of $0.11, up from $0.02 during the quarter previous. Globally, net sales rose by 7 percent, and operating income sat at $65.8 million, up from $28.7 million year-over-year. Revenue of $995.6 million beat estimates by $9.2 million. The company also declared a $0.36 per share dividend, with an ex-dividend date of May 21st and the dividend payable on June 14th, all in line with the previous.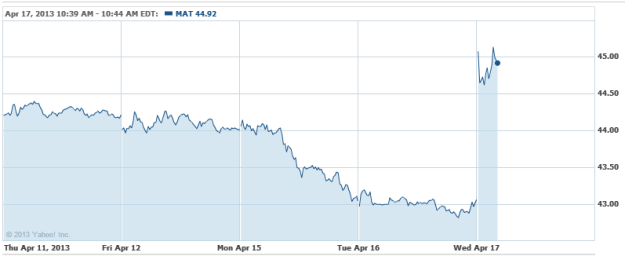 BHP Billiton (NYSE:BHP): The mining company has reaffirmed its full-year 2013 guidance, despite the fall in prices and market volatility. March iron production was up 6 percent over March of last year, and it expects to produce 183 million tons of iron ore over the whole financial year, despite some seasonal cyclone-related shut-downs over summer. "Given the company is now refocusing its energies on its shale business in the United States, which is still rather new, I expect over the next six months the market will want to see the added production starting to kick in." said Minelife analyst Gavin Wendt, on BHP's petroleum strategy.

Don't Miss: Can Apple Size Up in China?