Apple's Latest Samsung Bout, Sonic's Lukewarm Results, and 3 More Hot Stocks
Apple (NASDAQ:AAPL): Apple has been handed another loss in its ensuing fights with Samsung (SSNLF.PK), this time in Japan, and over syncing capabilities. Apple lost an appeal to a decision that claimed Samsung's products infringed a patent for synchronizing music and video data on its Galaxy smartphones and tablets with servers. The two tech giants have been locked in legal battles raging in four continents for years now, as they vie for share in the enormous mobile market.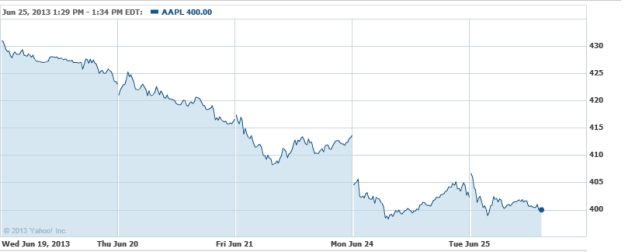 Sonic Corp. (NASDAQ:SONC): In-line EPS figures and revenue that fell just shy of expectations has caused shares of Sonic to nose downward, as the company reported that net earnings rose 2.7 percent attributed to lower costs and expenses, helping to offset a decline in drive-in sales. The real downer here is the company says it only sees a low single-digit pace of comparable-restaurant sales for FY14 as a whole, which CEO Clifford Hudson believes can be remedied with a national advertising campaign.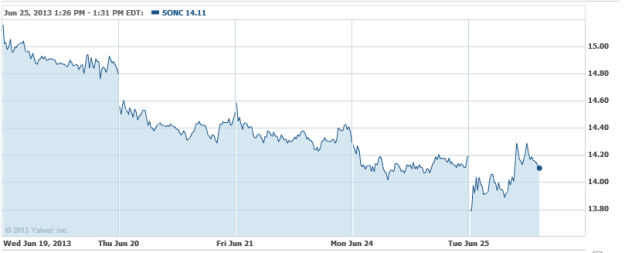 American Vanguard Corporation (NYSE:AVD): Shares have cratered some 15 percent in the wake of an announcement that it expects recent wet weather in the southeast and midwest U.S. to affect Q2 performance, likely resulting in a failure to meet the Q2 consensus expectations for earnings and revenues. Subsequent downgrades from prominent firms are likely not helping the situation.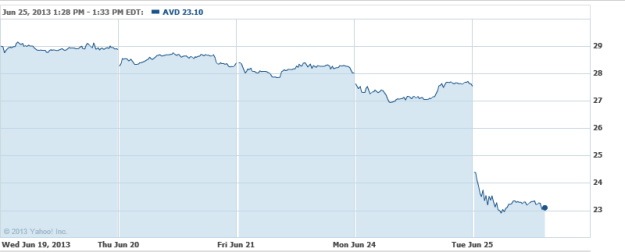 Men's Wearhouse Inc. (NYSE:MW): Shares are up after the company responded with comments over the firing of its founder and mouthpiece George Zimmer, which ignited a firestorm of negative sentiment against the company last week. Zimmer refused to support the management team at the retailer and expected veto power on key decisions, the company said. Notably, any move to take Men's Wearhouse would be "risky," due to the debt load involved.

Starbucks (NASDAQ:SBUX): Starbucks has initiated its new price hikes on select beverages on Tuesday, with the price of some drinks hitting $0.10 more than they cost on Monday. Higher labor costs and increasing rent expenses were attributed for the price swell.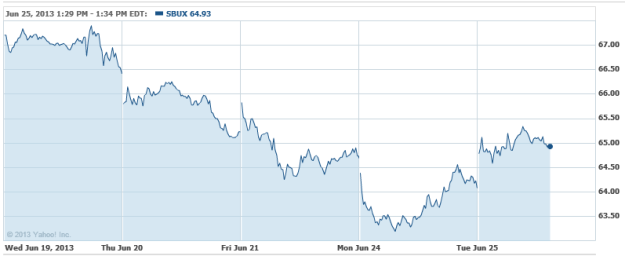 Don't Miss: Is iOS 7 Brilliant or a Sign That Apple Lacks Innovation?