Apple's Massive Cash Hoard Hits New Record
Apple (NASDAQ:AAPL) reported its latest round of earnings after Tuesday's closing bell. Despite the negative sentiment surrounding the tech giant over the past several months, the results topped expectations. Furthermore, Apple proved it is still a huge cash machine and willing to return some greenbacks to investors.
For its fiscal 2013 second quarter, Apple posted a net profit of $9.5 billion ($10.09 per diluted share), compared to $11.62 billion ($12.30 per diluted share) a year earlier. Meanwhile, revenue increased 11 percent to $43.6 billion, from $39.2 billion in the same year-ago quarter. Analysts had expected Apple to earn $10.00 per share on $42.33 billion in revenue. Apple's own estimates called for revenue between $41 billion and $43 billion.
Gross margin came in at 37.5 percent, inline with the company's own forecast. In the same quarter a year earlier, gross margin was 47.4 percent.
Apple sold 37.4 million iPhones in the quarter, compared to 35.1 million a year earlier. Apple also sold 19.5 million iPads, well above the 11.8 million in the fiscal second quarter of 2012. The company sold almost 4 million Macs.
Through all the volatility in stock movement and rumors, the company is still adding greenbacks to its massive cash hoard…
Taking the total of Apple's cash and cash equivalents, short-term marketable securities, and long-term marketable securities, the company's cash position grew to $144.7 billion, a new record. In comparison, Apple held a total cash position of $110.2 billion a year earlier. As the chart below from Zero Hedge shows, Apple increasing its cash position is business as usual.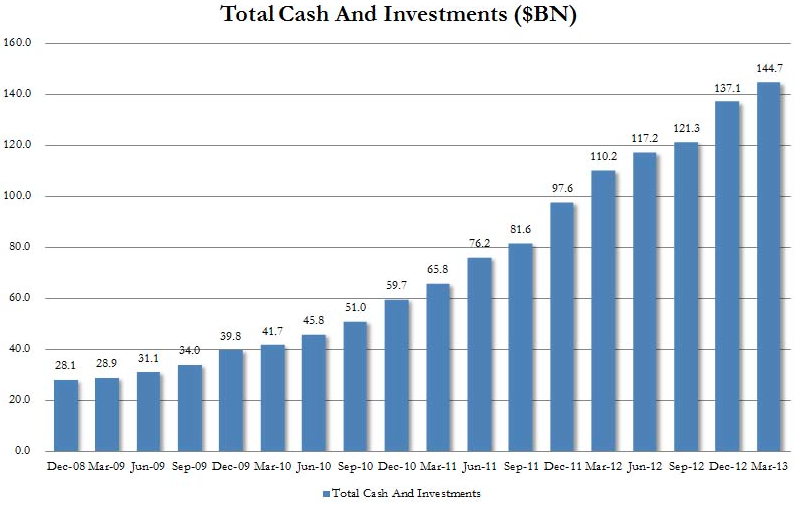 Apple's total cash position is bigger than the entire market capitalization of Facebook (NASDAQ:FB), Hewlett-Packard (NYSE:HPQ), Dell (NASDAQ:DELL), Pandora (NYSE:P), and Netflix (NASDAQ:NFLX) combined.
"Our cash generation remains very strong, with $12.5 billion in cash flow from operations during the quarter and an ending cash balance of $145 billion," said Peter Oppenheimer, Apple's CFO.
Apple also announced that it will return an additional $55 billion to shareholders by the end of calendar 2015, bringing the total to $100 billion. The Board raised the share repurchase authorization to $60 billion from $10 billion, and hiked the quarterly dividend 15 percent to $3.05 per common share.
Don't Miss: Are Americans Falling for Bernanke's Wealth Effect?