Apple's Tax Woes, Vodafone's Verizon Situation, and 2 More Hot Stocks
Apple (NASDAQ:AAPL): Senate investigators are coming down on the Cupertino-based company, in regards to loopholes that allegedly allowed the company to duck out of paying $44 billion in taxes between 2009 and 2012. Tim Cook is scheduled to appear before a committee on Capitol Hill today, to defend against accusations that the company took advantage of numerous U.S. tax loopholes and avoided U.S. taxes on $44 billion in offshore taxable income. Apple has maintained that it has not been funneling its domestic earnings overseas, or tapping revolving loans improperly.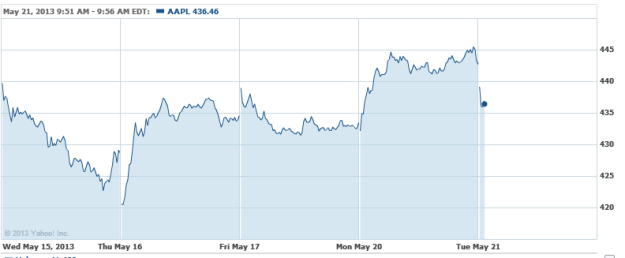 Verizon Wireless (NYSE:VZ): Vodafone (NASDAQ:VOD) has reveled that it is perfectly comfortable with its Verizon Wireless joint venture, but if a better deal were to surface — one more beneficial than the status quo — it would explore it and take it into consideration. The two companies are divided over their options — Verizon is eager to exit the JV and lay claim to the 45 percent stake held by Vodafone, while the British-based telecom provider is perfectly happy where it is.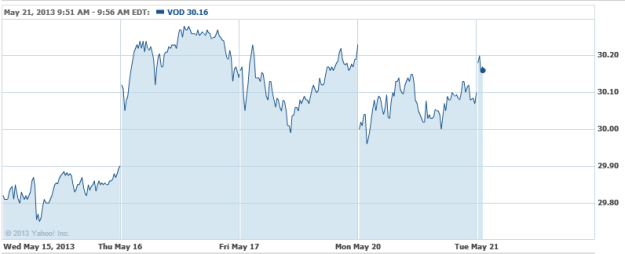 Home Depot (NYSE:HD): Earnings of $0.83 were enough to beat estimates by $0.07, while revenue of $19.1 billion cleared projections by $0.41 billion. The strong performance gave shares a lift in pre-market this morning, helped by a "seasonal timing change" that adds $574 million to its sales. The company also raised its guidance for the year, as customer traffic was up 2.5 percent during the period while the average ticket rose a healthy 5 percent.

AutoZone (NYSE:AZO): Earnings of $7.27 passed estimates by $0.06, although revenue fell short at $2.2 billion, $0.02 billion shy of projections. Although domestic store sales dipped 0.1 percent,  the company says sales trends strengthened during the last four weeks of the period, lending hope for a stronger Q2. The retailer opened 33 new stores during the quarter, and now boasts 4,767 locations.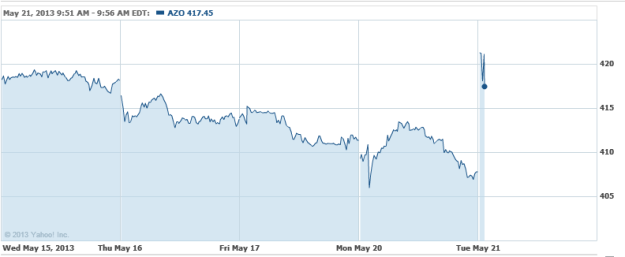 Don't Miss: Does Apple At Least Have This Edge on the Galaxy S4?