Apple (NASDAQ:AAPL): WWDC Recap: Apple released the overhauled iOS 7, and Jony Ive has applied his trademark clean aesthetic to the software with changes to the fonts, colors, layout, et al. iTunes Radio was released, and although supported by ads, it will be ad-free for iTunes Match subscribers. Two new Macbook Airs have been debuted in 11-inch and 13-inch formats, the latter of which supposedly boasts 12 hours of battery life. Apple has also updated OS X, now called Mavericks, which sports over 200 new features including tabbed windows for the Finder app, document tagging, the delivery of iOS push notifications, and improved support for multiple displays. (Live Coverage)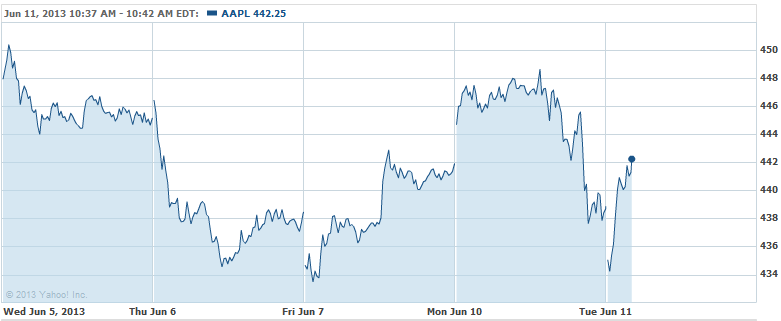 LDK Solar Co. Ltd. (NYSE:LDK): Shares are down over 8 percent in premarket after reports surfaced that reveal that LDK's losses widened to $187.1 million, from $185.2 million a year ago. Revenue was halved to $104.3 million, as the company shipped 240 megawatts of wafers, and 31.4 megawatts of cells and modules. The gross margin was -57 percent vs. -71.4 percent in Q4, compared to -65.5 percent in Q1 a year ago.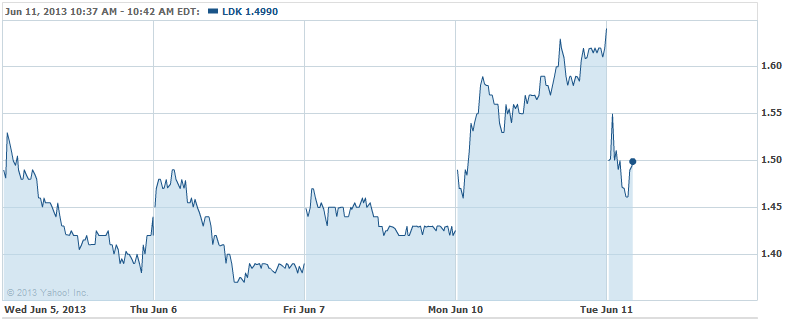 Dish Network (NASDAQ:DISH): Following a raised bid for Sprint (NYSE:S) from Japanese firm Softbank, Dish issued a statement simply saying: "We continue to believe that Sprint has tremendous value. We will analyze the revised SoftBank bid as we consider our strategic options." The new offer increases the cash given to Sprint investors to $5.50 per share from $4.02 per share, raises SoftBank's offer price for investor shares to $7.65 from $7.30, and raises the price of SoftBank's $1.9 billion investment in Sprint to $6.25 per share from $5.25 per share.
Taiwan Semiconductor Manufacturing (NYSE:TSM): "I don't feel that the growth of the global smartphone and tablet market is slowing down," Chairman Morris Chang explained, referring to the company's expectations of increasing demand for chips used in mobile devices to help the company achieve record earnings in 2013. However, not all markets are created equal. Some are predicted to slow, but others such as China, "the growth still exceeds ours and the market's expectations."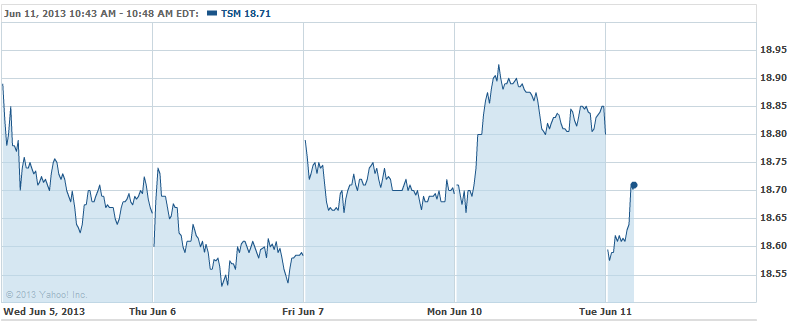 Don't Miss: Apple's iOS: Is Google Too Popular to Stop?