Arch Coal Reports Q1 Loss and 2 Other Hot Stocks to Watch
Arch Coal (NYSE:ACI): Current price $4.72
The domestic coal producer posted a first-quarter loss because of lower prices and sales volumes, along with word that it lowered its capital expenditure forecast by around $30 million for 2013. The net loss came to $70 million, or 33 cents per share, compared year-over-year with a net profit of $1.2 million, or 1 cent per share, from 2012. On an adjusted basis, the net loss widened to $71.8 million, or 34 cents per share, for the same period.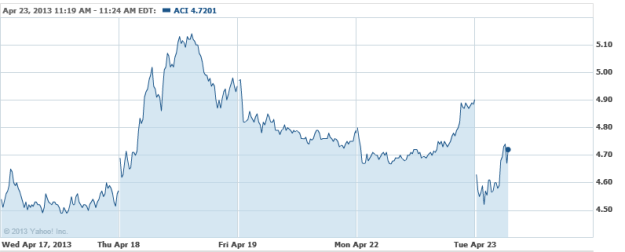 Sprint Nextel Corporation (NYSE:S): Current price $7.15
On Tuesday, Sprint said that Sprint Data Link and Static IP networking services now operate over the Sprint 4-gigabyte LTE network. Both products are compatible with 3- as well as 4-gigabytes, and include upgrades that facilitate businesses and government agencies  deploying, managing and extending an enterprise network to modems, tablets and handsets. Sprint Data Link allows business networks to reach farther than the limits of a corporate enterprise WAN. Additionally, Sprint Data Link supplies mobile employees and connected devices with access to their business information over a private wireless network which is  separate from the public Internet.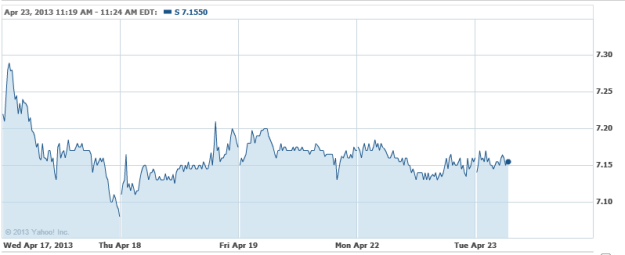 Coach (NYSE: COH): Current price $55.43
Coach announced on Tuesday sales of $1.19 billion for its third fiscal quarter ended March 30th, versus $1.11 billion reported in the same period in 2012, marking an increase of 7 percent. On a constant currency basis, sales jumped by  10 percent for the quarter. Net income for the quarter stood at $239 million, with earnings per diluted share of 84 cents,  compared to net income of $225 million and earnings per diluted share of 77 cents, year-over-year from 2012, increases of 6 and 10 percent, respectively. In addition, Coach's board voted to hike its cash dividend by 15 cents annually, elevating it to an annual rate of $1.35 per share beginning with the dividend to be paid to stockholders in July 2013.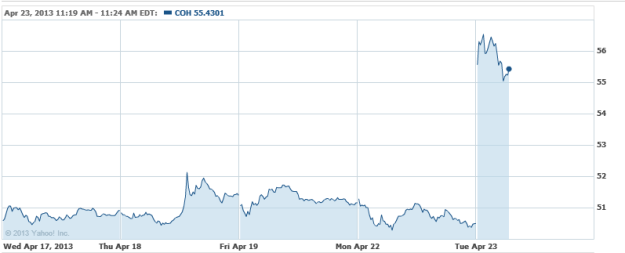 Don't Miss: Did BP Catch a Spill Litigation Break?