Archer Daniels Midland Earnings: Corn Prices a Threat
S&P 500 (NYSE:SPY) component Archer Daniels Midland Co. (NYSE:ADM) reported higher profit for the third quarter as revenue showed growth. Archer Daniels Midland Company is a processor of oilseeds, cocoa, corn, wheat and other feedstuffs. The company also manufactures vegetable oil and protein meal, corn sweeteners, flour, ethanol, biodiesel and other food and feed ingredients.
Don't Miss: Wall St. Cheat Sheet's newest Feature Trades of the Month!
Archer Daniels Midland Earnings Cheat Sheet for the Third Quarter
Results: Net income for the farm products company rose to $578 million (86 cents/share) vs. $421 million (65 cents/share) in the same quarter a year earlier. A rise of 37.3% from the year earlier quarter.
Revenue: Rose 32.6% to $20.08 billion YoY.
Actual vs. Wall St. Expectations: ADM fell in line with the mean analyst estimate of 86 cents/share. Estimates ranged from 75 cents per share to 96 cents per share.
Quoting Management: "The ADM team performed very well. Against a backdrop of volatile commodity prices, a challenging margin environment and geopolitical instability in the Middle East, North Africa and Côte d'Ivoire, our team worked smart and hard and delivered strong results," said Patricia Woertz, ADM chairman and CEO. "As we look ahead, we are monitoring the planting and growing season in North America and Europe. Overall, global demand for crops and agricultural products remains relatively strong. In these conditions, ADM will use our unique global asset base and strong balance sheet to serve vital needs, efficiently connecting the world's growers with the world's buyers, and delivering value for our customers and our shareholders."
Key Stats:
The company has now seen net income rise in two-straight quarters. In the second quarter, net income rose 29.1% from the year earlier.
Over the last five quarters, revenue has increased 14.7% on average year over year. The biggest increase came in the most recent quarter, when revenue rose 32.6% from the year earlier quarter.
Competitors to Watch: Bunge Limited (NYSE:BG), MGP Ingredients, Inc. (NASDAQ:MGPI), Corn Products Intl., Inc. (NYSE:CPO), CHS Inc. (NASDAQ:CHSCP), General Mills, Inc. (NYSE:GIS), SunOpta, Inc. (NASDAQ:STKL), Gruma S.A.B. de C.V. (NYSE:GMK), TreeHouse Foods Inc. (NYSE:THS), Seaboard Corporation (AMEX:SEB), and Alexandria Mills & Bakeries Co. (AFMC)
Stock Performance: Shares of ADM closed down 6.7% from the previous closing price of $37.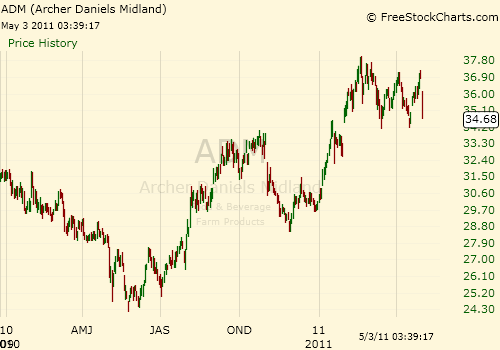 Don't Miss Wall St. Cheat Sheet's newest Feature Trades of the Month!