Are American Consumers Shaking Off Economic Concerns?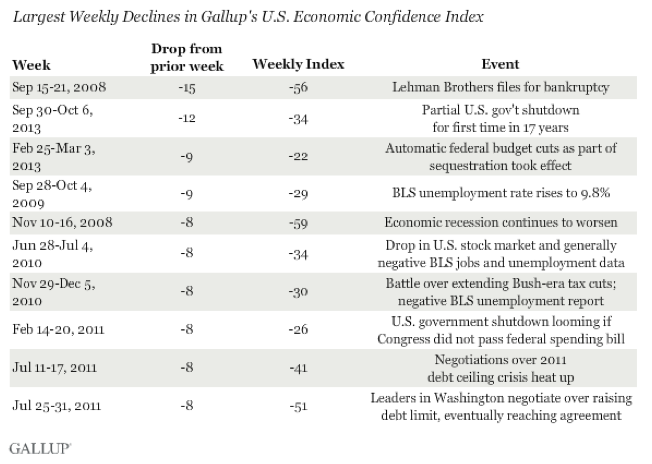 The economy is arguably much stronger now than it was in 2011, during the last debt ceiling crisis, but consumer confidence fell to much lower levels during early October's 16-day government shutdown and corresponding political crisis over spending and the size of the U.S. debt.
"Fiscal brinksmanship in Washington is related to many of the largest weekly drops in Americans' confidence in the economy since 2008," wrote Gallup's Alyssa Brown on October 8, explaining the 12-point drop in the firm's weekly reading of its Economic Confidence Index. That decline translated to an overall reading of -34. The next week, the index returned a reading of -39. However, the fiscal deal lawmakers inked on Thursday, while only kicking the country's budgetary and debt ceiling problems into 2014, helped American confidence in the economy improve, with the index edging up to -36.
But from a wider perspective, the Economic Confidence Index, which is based on Americans' assessments of current economic conditions and their perceptions of whether the economy is getting better or worse, has remained "entrenched in negative territory," according to Gallup. Comparatively, in late May and early June of this year, readings hovered around -3. Alongside weak economic confidence, Americans have expressed concerns about the labor market, reporting worse hiring situations at their places of employment so far in October.
The deterioration of consumer sentiment and growing fears that employers will put a damper on hiring activity are two factors that could affect how much Americans decide to save or spend this month. Even though the fiscal crisis in Washington has been averted — if only temporarily — it takes time for confidence to rebound. After 2011's debt negotiations, it took nearly five months for sentiment to recover.
The glimmer of hope is that respondents' assessments of their current well-being edged higher than analysts had expected early in the month. Thomson Reuters/University of Michigan's preliminary reading on the overall index on consumer sentiment contained plenty of warning signs: the headline index dropped from September's 77.5 to 75.2 in October, the lowest reading since January.
That decline showed that the "timing of the fiscal debacle is very bad for retailers going into the year-end holiday season," BNP Paribas economist Yelena Shulyatyeva told Reuters. Still, the third consecutive monthly decline was relatively small, signaling to survey director Richard Curtin that "the muted response may be due to consumers giving progressively less credence to the economic scare tactics that have framed the debates over the past few years."
Even more encouraging for the economy is the fact that the index of current conditions rose to 92.8 from 92.6 last month; analysts had expected a reading of 91. The resilience in that measure suggested that consumers have some optimism about increasing incomes. "When asked about their prospects for household income gains during the year ahead, the median expected increase was the highest in five years," Curtin said to Reuters.
That aspect of the report — the index of current conditions – is significant. The average American family not only makes less than it did before the recession, but it makes less than it did in 1989, according to a September report from the U.S. Department of Commerce's Census Bureau.
The slow growth in wages and income for a large portion of the American population has proven to be a stumbling block for the economy. This so-called lost generation of economic gains means Americans are more likely to keep discretionary spending to their immediate needs. Consumer spending accounts for approximately 70 percent of gross domestic product, and because government and business spending have remained weak, the economy is depending even more on household spending to fuel growth.
"It's hard to get to a significant pickup in growth without the consumer playing a significant role in that," Jim Baird, chief investment officer at Plante Moran Financial Advisors, told The Wall Street Journal.
The spending environment is undeniably tough, but data from industry research firms indicate that the government shutdown did not derail retail sales very significantly. For the week ended October 12, both the same-store sales index compiled by the International Council of Shopping Centers-Goldman Sachs and the Johnson Redbook Index contracted significantly, and a separate ICSC-Goldman Sachs survey showed that about 40 percent of  respondents cut back on spending because of direct or indirect effects of the government's partial shutdown.
However, for the week ended October 19, the ICSC-Goldman Sachs same-store sales index appears to have changed course, while the Redbook Index continued to trend negative.
Last week, according to ICSC-Goldman's same-store sales index, sales at chains expanded 1.4 percent, week over week, after contracting at a 0.7 percent rate the previous week. On a year-over-year basis, the index pushed further into positive territory, reversing two consecutive weeks of slowing growth by expanding by 3.2 percent compared to the previous week's 1 percent.
That growth lifted the index's four-week moving average to +2 percent from +1.6 percent. "As the federal government shutdown came to an end, consumers were seemingly back in a mood to shop," Michael Niemira, the ICSC's vice president of research and chief economist, said in a press release.
Comparatively, the Johnson Redbook Index showed much weaker results than the previous week. The index has expanded 2.9 percent over the past 12 months, which compares with the previous week's 3.2 percent rate of growth. In addition, Redbook's monthly comparison contracted at a 1.5 percent rate after contracting 1.4 percent the week before.
Follow Meghan on Twitter @MFoley_WSCS
Don't Miss: Are Higher Stock Prices Juicing the Real Estate Market?