Are Americans BOOSTING These Top 7 Restaurant Stocks?
Dining out is practically a national pastime for Americans. From celebrating a special occasion to simply taking a break from cooking at home, people enjoy eating out. According to the United States Department of Labor, the average American spent $2,505 a year on restaurants in 2010, down from almost $2,700 in 2008. With the economy remaining sluggish, a new survey finds that Americans are still tightening their belt on restaurant spending.
A recent study by Harris Interactive (NASDAQ:HPOL), a market research firm in New York, polled more than 2,400 adults to gauge whether or not an economic recovery is taking place based on their eating habits. It found that Americans are dining out, but they are still reducing how often they do so. Over the past six months, 36 percent of respondents said they are eating less frequently at quick-service restaurants. Meanwhile, 34 percent of those polled said they are eating less at casual dining restaurant chains and local casual dining restaurants. Only one in about 10 Americans said they are eating at these types of restaurants more frequently.
Don't Miss: 2012's Election Frenzy Brings Out the True Colors in These Brands
"Consumer restaurant behavior continues to evolve as they manage their budgets in an ongoing tight economy. At the beginning of the economic downturn we saw consumers saving money by changing their behavior in two ways: eating out less frequently and shifting their eating-out dollars away from casual dining toward quick-service restaurants," said Mary Bouchard, vice president at Harris Interactive. "Now, with several years of experience with constrained budgets, they have shifted even further from the busy-lifestyle convenience of eating out on a regular basis to making time for cooking at home. When they do eat out, not surprisingly, price is still a primary component of their decision making process."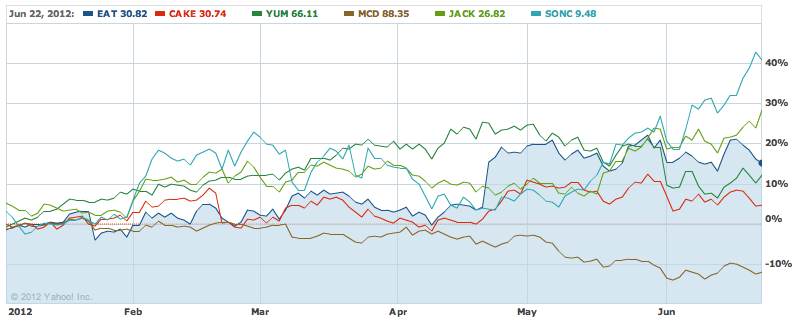 As the chart above shows, it has been a mixed bag of results for restaurant stocks. Casual dining outlets such as The Cheesecake Factory Inc. (NASDAQ:CAKE) and Brinker International Inc. (NYSE:EAT) have gained 2.44 percent and 14.5 percent year-to-date, respectively. Meanwhile, quick-service restaurant giant McDonald's Corp. (NYSE:MCD) has declined 12 percent this year. Other quick-service outlets such as Yum! Brands Inc. (NYSE:YUM), Jack in the Box Inc. (NASDAQ:JACK) and Sonic Corp. (NASDAQ:SONC) have all jumped by double digits this year.
Last week, Darden Restaurants Inc. (NYSE:DRI), the world's largest full-service restaurant company, reported fourth-quarter results that coincided with the Harris Interactive results. Revenue at Darden Restaurants fell below the mean analyst estimate, as customers became more selective in their dining out choices. "From a sales perspective, growth in the fourth-quarter was below expectations, due largely to same-restaurant sales declines at both Olive Garden and Red Lobster that reflected less effective than anticipated nationally advertised promotions," explained Clarence Otis, Chairman and Chief Executive Officer of Darden.
Investor Insight: Is Surface the Long-Awaited Catalyst for Microsoft's Stock?