Are Americans Falling for Bernanke's Wealth Effect?
It is no secret that Ben Bernanke is trying to create a wealth effect. The Federal Reserve has injected record amounts of liquidity into the financial system, with hopes of forcing investors into riskier assets such as stocks. The idea is that an economic recovery will form as higher asset prices cause more people to feel confident and spend money. However, Americans are still cautious about the stock market.
Despite a strong rally and new all-time nominal highs, individual investors are not allowing Bernanke's record-low interest rates to force them into stocks. More than three in four Americans (76 percent) claim they are no more inclined to invest in stocks with savings accounts and CDs producing next-to-nothing yields, according to new research from Bankrate.com.
That is the same percentage as a year earlier. The percentage of people more inclined to invest in stocks increased to only 22 percent, compared to 18 percent in the same period last year. However, the poll has a 3.7 percent margin of error, which makes the improvement even less impressive.
"Although the Fed is trying to push investors into riskier assets in pursuit of better returns, individual investors aren't biting," explained Greg McBride, CFA, Bankrate.com's senior financial analyst.
In the bigger picture, Americans are feeling mixed about their financial security. Bankrate.com also reported that its Financial Security Index dipped from 101.5 in March to 100.4 in April. On the positive side, any reading above 100 shows improved financial security relative to 12 months ago. This is only the fourth time in the 29 months since its inception that the Index has registered in positive territory.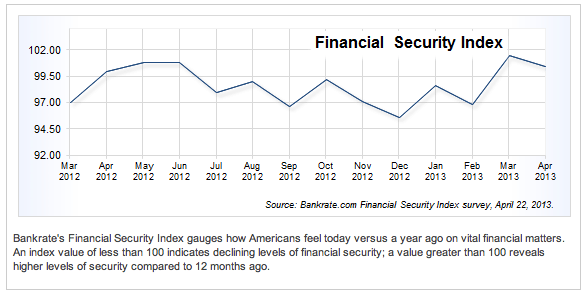 "Even disappointing job growth in March wasn't enough to shake Americans' upbeat feelings of financial security relative to one year ago," McBride added.
Americans feel better over the past year in four of the five categories: job security, debt, net worth, and overall financial situation. The only category where they feel less secure is savings. Only 14 percent of people at least 30 years old said they were more comfortable with their savings than a year earlier. In comparison, about a third of people younger than 30 are more comfortable with their savings.
Don't Miss: Americans Are Raiding Retirement Accounts