Are Americans Feeling Better About Their Financial Security?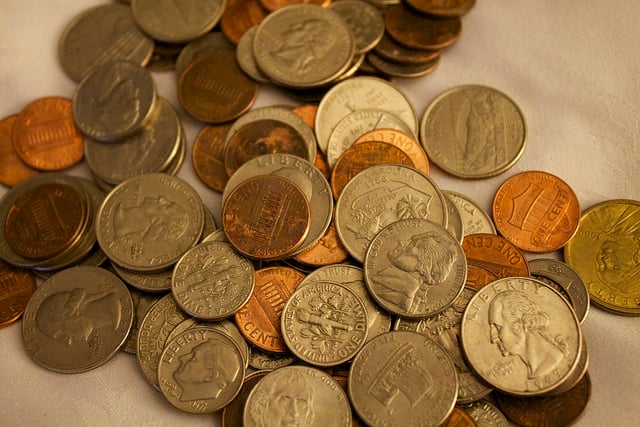 Despite an impressive rise in the stock market and a steady decline in the headline unemployment rate this year, Americans are not feeling any better about their financial security.
Americans' top financial priority is simply staying current or getting caught up on bills. According to a new report from Bankrate.com, 36 percent of Americans say they are most worried about bills, up from 32 percent a year earlier. Paying down debt came in second, at 20 percent, while 18 percent of people are most worried about their savings. Furthermore, 52 percent of people making less than $30,000 a year are focused on paying bills.
The headline unemployment rate has declined to 7.3 percent this year from a peak of 10 percent in 2009, but the number of high-quality jobs is still lacking. "Americans' financial priorities reflect the difficult economic realities of high unemployment, stagnant income, and the absence of new high-paying jobs," said Greg McBride, CFA, Bankrate.com's senior financial analyst.
Wages and salaries as a percentage of gross domestic product have been declining for more than four decades. According to recent data from the U.S. Bureau of Labor Statistics, employees in seven of the 10 largest occupations typically earn less than $30,000 a year. A retail salesperson — the most popular occupation — earned an average of only $25,310 last year. Meanwhile, the number of people employed part-time because of economic reasons is nearly 8 million.
As the chart below shows, Bankrate.com's Financial Security Index edged slightly higher to 99.3 in November but remained below 100. A reading below 100 indicates deteriorating financial security compared with one year earlier. Americans are most negative about job security and savings. In fact, Americans feeling less comfortable with their savings have outnumbered those who feel comfortable for 36 consecutive months.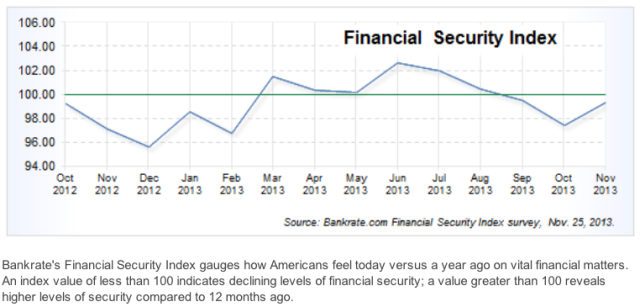 On the positive side, 29 percent of Americans say their net worth increased in November from a year earlier, and only 19 percent say their net worth decreased. Thirty-six percent of people making at least $30,000 say their net worth has risen.
Don't Miss: 3 Vital Ways to Maximize Your Retirement Planning
Follow Eric on Twitter @Mr_Eric_WSCS