Are Americans Feeling Better About Their Retirement Chances?
While the U.S. economy is far from receiving a clean bill of health, more Americans are feeling better about their prospects for retirement.
The number of non-retirees that expect to have enough money to comfortably live out their golden years now stands at 46 percent, compared to the all-time low of 38 percent last year, according to a new poll from Gallup. Optimism about retirement is now at its highest point since the Great Recession, but still well below levels seen a decade ago.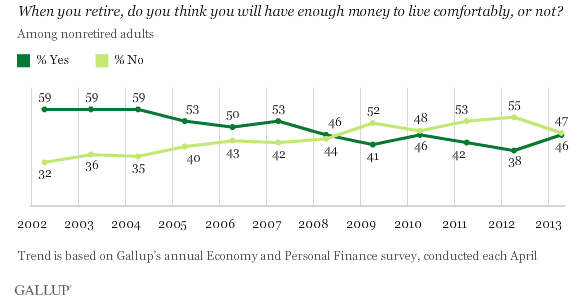 As the chart above shows, the percentage of people who think they will have enough money to live well in retirement has declined from 59 percent in 2002, to as low as 38 percent in 2012. Today, people appear to be split about the future, with 47 percent saying they will not have enough money to live comfortably in retirement.
Gallup believes the 8 percent increase in optimism this year comes from improved consumer confidence, rising house prices, and a stock market that reaches new all-time highs on a seemingly weekly basis.
Last week, the Conference Board reported that the consumer confidence index jumped to 76.2 in May, its best reading in more than five years. Meanwhile, the Thomson Reuters/University of Michigan's final reading on consumer sentiment rose to 84.5, its highest level since July 2007.
A combination of record low interest rates and inventory levels have provided a boost to home prices. The Standard & Poor's/Case-Shiller index showed a 10.9 percent jump in home prices for March, compared to the prior year. Home prices in 20 major metropolitan areas rose at their fastest rate since April 2006, and beat expectations calling for a 10.2 percent gain. In fact, all 20 cities posted year-over-year gains for the third consecutive month.
Age is also a large factor in determining views on retirement. According to Gallup, non-retirees aged 18 to 29 are more than twice as likely to say they will live comfortably in retirement. In contrast, 55 percent of Americans aged 30 to 49 and 50 to 64 say they won't live well in retirement. Interestingly, younger Americans are the least likely group to expect Social Security as a major source of income.
Don't Miss: 3 Signs of Hope for the Student Debt College
Follow Eric on Twitter (@Mr_Eric_WSCS)