Are Americans Finally Masters of Their Credit Card Debt?
Earlier in June, the U.S. Federal Reserve reported that total consumer credit outstanding in April increased 4.7 percent on the month (1.0 percent on the year) to $2.82 trillion. Overall, credit use has increased steadily for more than two years as wage growth remains suppressed and consumers take advantage of historically low interest rates.
The majority of consumer credit outstanding (about 70 percent) is non-revolving, mostly tied up in loans for cars and college, and increased at an annual rate of 6.5 percent in April. Revolving debt, largely tied up in credit cards, has increased at a much slower rate of 1.0 percent. This may be attributed to an overall distrust of credit debt as a result of the credit crisis in 2009 and 2010, when revolving consumer debt declined 8.8 percent and 7.6 percent, respectively.
Overall consumer caution regarding credit cards has also made itself evident in lower rates of late payments at major issuers.
Late credit card payments at major issuers mostly declined in May compared to April. Major issuers of note are: JPMorgan (NYSE:JPM), American Express (NYSE:AXP), Discover Financial (NYSE:DFS), Capital One (NYSE:COF), Bank of America (NYSE:BAC), and Citigroup (NYSE:C).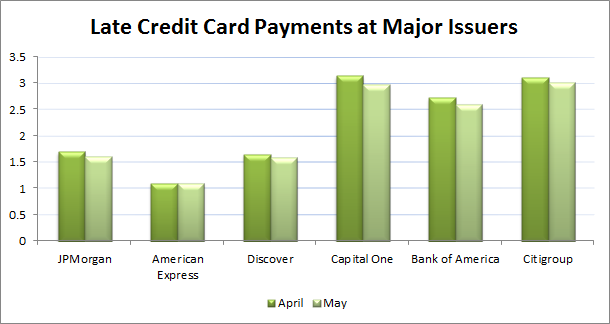 This reduction in late payments can be seen as the result of current holders using their cards more responsibly, and a decline in the number of young people with credit cards. Young people are more likely to make late payments on credit cards because of unreliable or low income streams, or a lack of responsibility regarding spending habits.
An analysis done by FICO shows that average credit card debt in 2012 for people between the ages of 18 and 29 is $2,087, down from $3,073 in 2007. A law called the Credit Card Accountability Responsibility and Disclosure Act, passed in 2009, also made it more difficult for people under 21 to get a credit card.
Another encouraging sign, and one that is better for the bottom line of major credit card issuers, is a reduction in overall charge-off rates. The net charge-off rate is the amount of debt that a company believes it will never collect.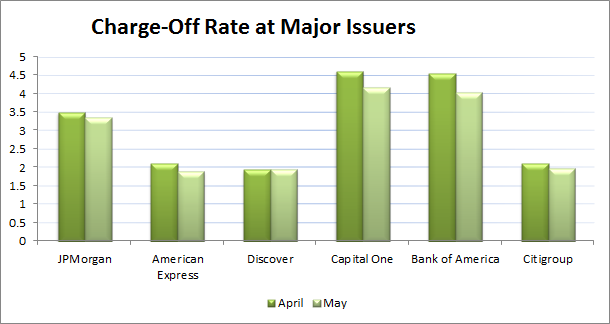 Don't Miss: Has U.S. Manufacturing Entered the Dog Days?