Are Americans Still Delaying Retirement?
The retirement process continues to be a major challenge for most Americans. Along with financial stress, several factors appear to be driving the average retirement age to new all-time highs.
The average age at which U.S. retirees claim they actually retired now stands at 61, compared to 57 in 1995, according to Gallup's annual Economy and Personal Finance survey conducted last month. As the chart below shows, the average age for retirement has been trending upwards over the past two decades.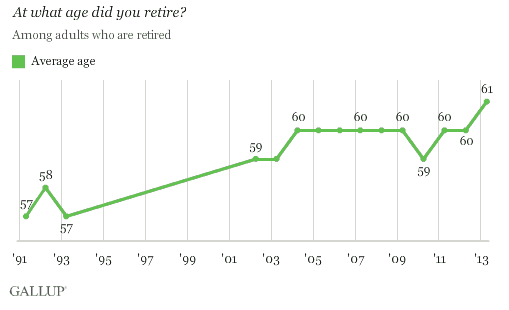 While the greatest financial crisis since the Great Depression certainly caught many Americans off guard and damaged personal wealth across the nation, the longer-term trend suggests other factors might be at work too.
Gallup says the results may indicate changing views about the value of work, the composition of the workforce, and a decline in jobs with mandatory retirement ages. Americans may even receive health benefits from delaying their retirement. Gallup finds that Americans aged 60 to 69 who work have slightly better emotional health. Other factors such as higher living costs and stagnant wages should also not be overlooked.
Younger Americans are growing more pessimistic about their golden years. The average non-retired American does not expect to retire until the age of 66, compared to 60 in 1995. Furthermore, 37 percent of those polled by Gallup say they expect to retire sometime after the age of 65, up sharply from 22 percent a decade ago and 14 percent in 1995. Meanwhile, only 26 percent say they will likely retire before age 65, down significantly from 49 percent in 1995.
Americans were more likely to say they will retire after age 65 than before that age for the first time in 2010. As the chart below shows, this gap does not appear to be disappearing anytime soon. As Americans near retirement age, they are more likely to feel the need to work longer. More than half of non-retirees aged 58 to 64 expect to retire after age 65, compared to 36 percent for those aged 50 to 57, and 38 percent between the ages of 30 and 49.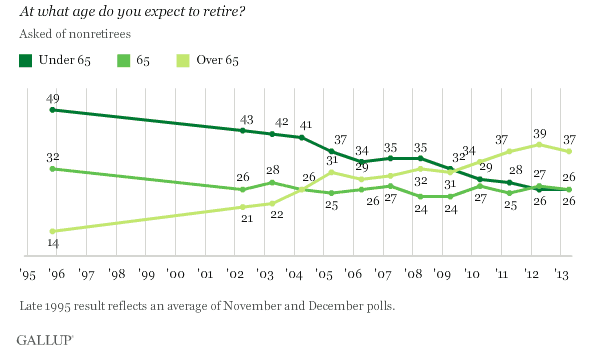 Gallup notes, "Retirement accounts of the older group may have declined in value during the economic recession, while the younger group may feel that their retirement accounts' values will be high enough for them to retire at age 65 or younger — even taking into account the uncertain financial situations of Social Security and Medicare."
The results echo a recent study from Bank of America's Merrill Lynch that finds retirement is being redefined. Seven out of ten pre-retirees say they will most likely be employed at least some of the time in retirement. Thirty-nine percent plan to work part-time, while 24 percent will cycle between work and leisure.
Don't Miss: What is Warren Buffett Buying and Selling?
Follow Eric on Twitter (@Mr_Eric_WSCS)