Are August Employment Gains Just What the Fed Wanted?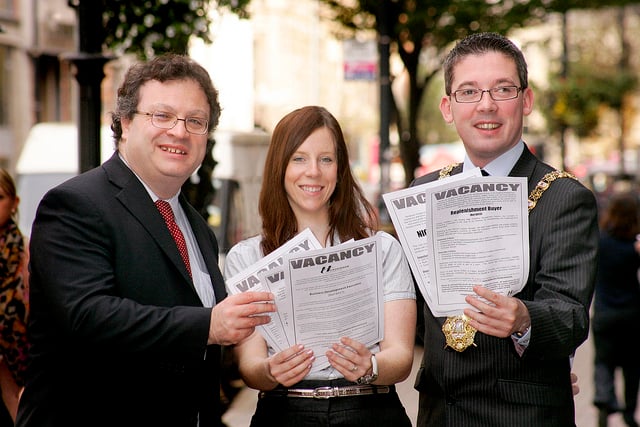 According to Moody's Analytics chief economist Mark Zandi, whose firm helps compile the ADP National Employment Report, "it is steady as she goes in the job market." While the 176,000 jobs that United States employers added to their payrolls in the month of August were slightly lower than the 198,000 jobs added in July, last month's additions fell roughly in line with the average monthly increases experienced over that past two years, noted payroll processor ADP in the report.
Last month's number was close to what economists had expected. However, it is important to remember than ADP's report is typically seen as less accurate than the government's official numbers, which will be released Friday as part of the Department of Labor's Employment Situation report. For example, in July, ADP announced that 198,000 new jobs were created, but the Labor Department's report showed that only 162,000 jobs were created — even while the unemployment rate dropped from June's 7.6 percent to 7.4 percent.
The consensus estimate for August's employment report is 175,000 new jobs. A survey of economists conducted by CNNMoney even found that some predict the report to show employers added 185,000 jobs, which they expect would bring the unemployment rate down to 7.3 percent.
While Challenger's report showed employers laid off workers in August in far greater numbers than they did earlier in the year, with planned job cuts rising to their highest level since February, data from the Department of Labor indicats that layoffs have been generally decreasing.
Throughout the month of August, weekly claims for unemployment benefits — which serve as a proxy for layoffs — have risen as many times as they have fallen, but since the middle of July, initial claims have not strayed far from the 330,000 level, supporting expectations that job gains will be much stronger in the month of August. "The trend remains very encouraging,"  Moody's Analytics senior economists  Ryan Sweet told Bloomberg after last week's claims numbers were released. "It suggests the job market is strengthening."
Overall, initial claims are hovering near their lowest level since early 2008, a sign that layoffs are approaching normal levels even if job creation remains slow.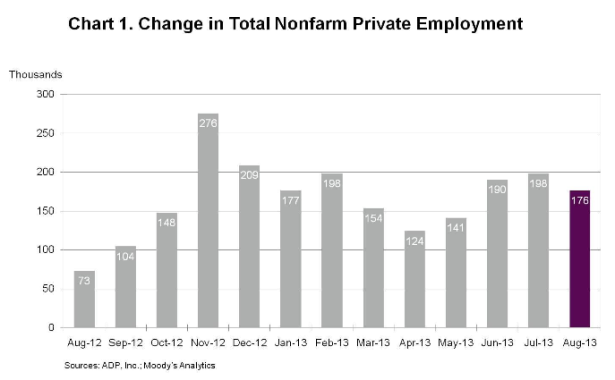 In private employment, mid-sized companies led the August job gains, adding 74,000 new positions, according to ADP. Comparatively, small businesses with fewer than 50 employees added 71,000 workers and large businesses with 500 or more employees expanded their payrolls by 32,000 jobs.
In what has become a common pattern in employment gains in 2013, the majority of new August jobs came in the services sector, which added 165,000 positions. Much of the July's hiring was concentrated in part-time or contract employment in low-wage industries like the retail and restaurant sectors. Together, four low-pay sectors — retail, restaurants, temporary staffing firms, and home health care — accounted for 60 percent of the jobs added in July.
So far this year, those sectors have made up 45 percent of the country's 1.3 million payroll additions. Since March, the number of part-time workers has swelled by 791,000 while the number of full-time workers has risen 187,000. Making that disparity even more glaring is the fact that there are 116.1 million full-time workers in the United States and just 28.2 million part-time workers.
By sector, construction added 4,000 jobs; manufacturing added 5,000; trade, transportation, and utilities added 40,000; and professional and business services added 50,000.
Despite the fact that ADP's report showed private sector employment expanded less in August than in July, analysts say the data still supported the consensus opinion that the Labor Department's report will show improvement. It's "enough to reinforce expectations that the Fed will begin to taper its asset purchases," Capital Economics' Paul Ashworth told Reuters. Currently, the Federal Reserve is determining when to begin tapering its monthly stimulus program. However, the Labor Department's employment situation report contains a far more detailed picture of the condition of the labor market than ADP's report.
In particular, the data shows whether the labor-force participation rate — the fraction of adult Americans either employed or looking for work — is growing or decreasing. Typically, as the economy recovers and more people begin to search for work, the unemployment rate increases because there are more people looking for a job and job seekers are registered as unemployed while they hunt. Last month, the unemployment rate dropped two-tenths of a percentage point because Americans left the labor force.
Follow Meghan on Twitter @MFoley_WSCS
Don't Miss: The Great Recession Is Definitely Over for These 5 Banks.