Are Baby Boomers Feeling Better About Their Finances?
The Great Recession impacted the finances of many households in the nation. Aftershocks are still being felt and the strength of the economy is debatable, but older baby boomers appear to be feeling better about their personal finances.
Over the next two decades, it is estimated that several thousand baby boomers will retire each day. If this generation suffers from financial worries, it could have large implications for the overall economy. Thankfully, they appear to be optimistic.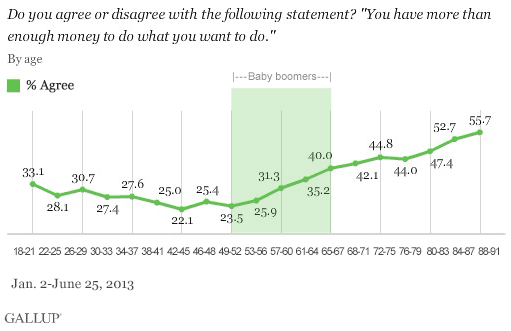 According to a new poll from Gallup, baby boomers at the older end of their generation feel better about their finances than those at the younger end. Participants who agree that they have "more than enough money to do what you want to do" increases steadily throughout the baby boom years of 49 to 67 – from 23.5 percent to 40 percent. Furthermore, the optimism continues to rise as adults move into their 80s.
The results are based on a survey conducted earlier this year of more than 21,000 adults, living in all 50 U.S. states and the District of Columbia.
The Gallup survey finds that boomers feel better about money they have to spend as they grow older. Almost 40 percent of young boomers are "feeling pretty good these days about the amount of money you have to spend," while 50.7 percent of older baby boomers feel the same way.
Baby boomers are also having less regret about spending money as they grow older. As the chart below shows, the percentage of baby boomers who worry about having spent too much money "yesterday" declines from 34.5 percent to 24.0 percent during the aging process. In fact, the percentage does not increase until people reach their late 80s, perhaps fearing a 100th birthday is on the table.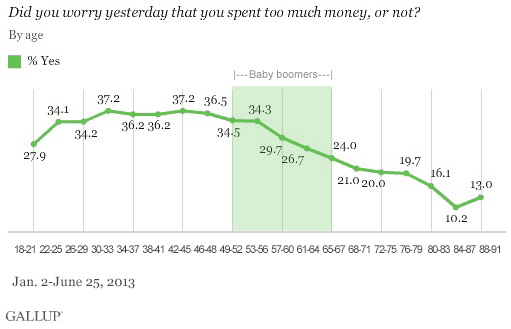 In general, the optimism is seen as a bullish sign for the economy. Gallup explains, "The fact that Americans of advanced age generally have the most positive views of their own financial situations and their own spending is important because of the pending expansion in the number of Americans aged 65 and older. If the current patterns hold, the country as a whole will have increasing numbers of older citizens who are generally not worried about their finances, which could augur well for the overall health of the economy."
Don't Miss: Consumer Sentiment Takes a Surprising Turn
Follow Eric on Twitter (@Mr_Eric_WSCS)