Are Businesses Shakier on the Economy Than Consumers?
Manufacturers' and trade inventories climbed 4.5 percent on the year to a seasonally-adjusted $1.64 trillion in March, although inventories were flat on the month, according to data released by the U.S. Census Bureau on Monday. Sales and shipments were up 1.8 percent on the year but down 1.1 percent on the month to a seasonally-adjusted $1.27 trillion.
This decline in inventory building combined with falling sales could slow economic growth in the first quarter by way of fewer orders for factory-made goods. An unexpected uptick in retail sales, also reported on Monday morning, could mean that businesses will be restocking this spring, but the data were still relatively soft at +0.1 percent.
Broadly speaking, the data suggest that U.S. businesses remain uncertain about the strength of the U.S. economic recovery. Meanwhile, the retail sales report suggests that consumers are more optimistic than economists expected.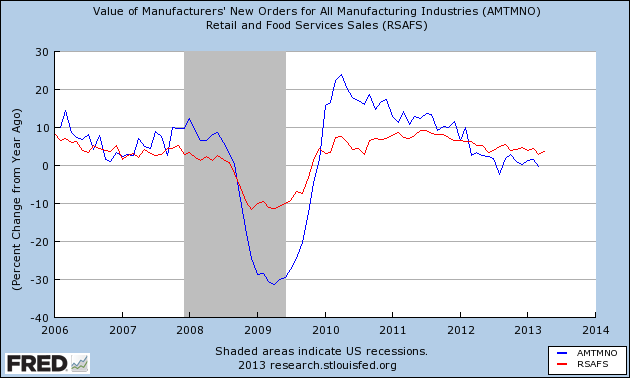 First quarter data showed a 1.1 percent sequential increase in inventories, which compares unfavorably to a 1.5 percent increase in the fourth quarter and is the slowest build since the fourth-quarter of 2011. First-quarter sales climbed just 0.6 percent, the slowest growth since the beginning of the recovery.
The total seasonally-adjusted business inventories-to-sales ratio was 1.29, which compares against 1.26 in the year-ago period. Overall, this suggests that businesses are keeping inventory growth relatively low as sales growth slows down.
Don't Miss: Why Does Germany Want More Austerity From EU Counterparts?