Are Car Sales the Only Driver of Retail Sales Growth?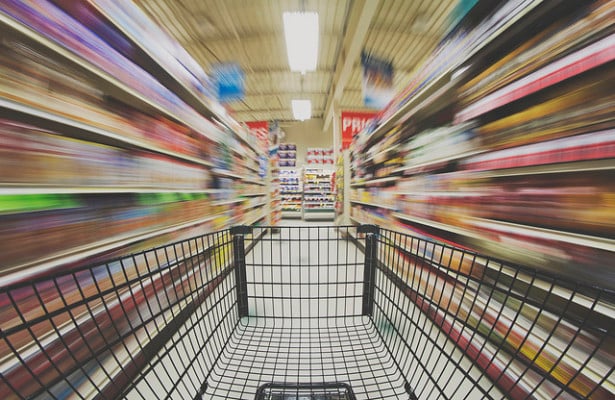 "The consumer continues to tag along slowly but surely," Wells Fargo Securities analyst Eugenio Aleman told Bloomberg, following the Department of Commerce's retail sales report. "We have to see better job growth, better income growth" for consumer spending to improve.
While pent up demand for big-ticket items like homes and automobile have helped strengthen the housing market and given a small boost to monthly retail sales figures for much of the year, as long as the labor market improves only modestly and growth in incomes and wages remains relatively stagnant — as it has since the end of the recession — many American consumers will continue to be in a difficult position. If American consumers are in difficult position, so is the economy — consumer spending accounts for approximately 70 percent of gross domestic product. Since government and business spending have remained weak, the economy is depending even more on household spending to fuel growth.
August's retail sales growth put the struggles of the American consumer back in the spotlight, rising less than analysts had forecast. The 0.2 percent increase was the smallest gain in four months and followed an upwardly revised 0.4 July increase. Even worse, excluding motor vehicles, sales rose an anemic 0.1 percent after increasing 0.6 percent in July. Analysts had expected retail sales to increase 0.5 percent with help coming from back-to-school shopping.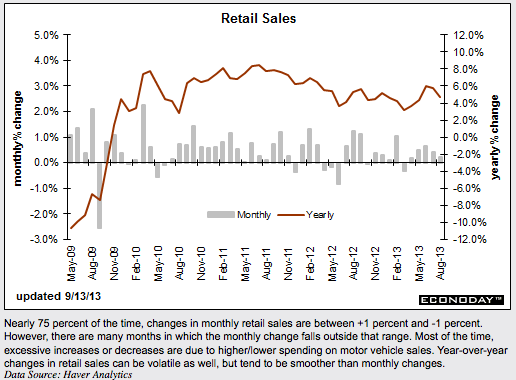 Wal-Mart (NYSE:WMT) warned last month that it expected soft sales to continue into the fall, despite the approach of the important back-to-school shopping season. Sales at stores open for at least one year dropped 0.3 percent in the United States during the last quarter. "That low-income customer is really struggling now, and that's hitting Walmart, Edward Jones analyst Brian Yarbrough told Reuters following the earnings release.
As Wal-Mart generates about 70 percent of its revenue from sales in the United States, it is impossible that decreased earnings power in its key customer base — lower income Americans — did not have a significant effect on its bottom line. That phenomenon, known as the Wal-Mart effect, is effecting retailers from Kohl's (NYSE:KSS) to Macy's (NYSE:M) to Gap (NYSE:GPS). August sales data showed a 0.8 percent decline in spending at clothing chains.
When compiling the monthly retail sales report, the Commerce Department analyzes 13 major categories. For August, eight of those categories showed gains, led by automobile dealerships, electronic outlets, and furniture stores, while purchases of clothing, sporting goods, and building materials dropped. In particular, the 9 percent decline in purchases of building materials signaled that construction activity had slowed last month, likely driven by rising interest rates. Rising interest rates present a threat to the resurgent housing industry because they had kept home purchases more affordable. However, automobile dealer receipts rose 0.9 percent after decreasing 0.5 percent in the prior month.
Cars and light trucks sold at the fastest annualized pace since November 2007, according to Ward's Automotive Group, with General Motors (NYSE:GM), Ford (NYSE:F), Toyota (NYSE:TM), and Honda (NYSE:HMC) exceeding analysts' sales estimates. Excluding cars, gasoline, and building materials, the figure used to calculate GDP, retail sales rose 0.2 percent after July's 0.5 percent increase.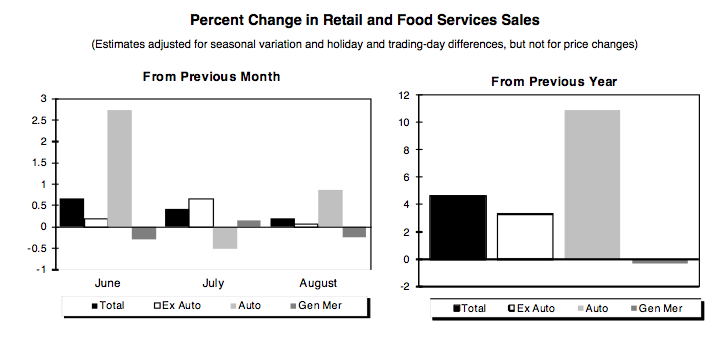 Together, limited job creation and income growth are creating a difficult spending environment. The Department of Labor reported last Friday that the country's employers expanded their payrolls by 169,000 jobs, below the consensus estimate of 175,000 new jobs, which followed 104,000 job additions in July and 172,000 in June.
In addition, incomes are only slowly increasing. According to the Commerce Department, disposable income, the money left after taxes are paid, increased 0.8 percent in July after adjusting for inflation. In 2012, disposable income rose just 0.2 percent.
However, a recent Gallup study, which surveys adults daily on how much they spent the previous day, excluding bills or major purchases, showed a slightly different trend in August. Americans' self-reported daily spending for the month of August was the highest Gallup has measured in any month since a $99 reading in September 2008.
Rising to $95 from $89 in July, consumer spending finally broke through the three-month long period in which Gallup's spending measure was generally unchanged. This information is evidence that some Americans are benefiting from rising home values, giving homeowners more equity, which in turn puts some individuals in a better position to increase their outlays. "You're seeing a bit of a split economy where that lower income consumer has been under a lot of pressure but the higher end is doing OK," Telsey Advisory Group senior research director Joe Feldman told CNBC last month.
That reality has helped keep consumer spending relatively resilient this year despite tough economic headwinds. Consumer spending actually accounted for nearly half of the 2.5 percent annual growth rate of gross domestic product in the second quarter. Navy Federal Credit Union economist Alan MacEachin told the Wall Street Journal he expects consumer spending to contribute a similar amount to economic growth in the second half of the year as in the first. Still, he still sees "no reason" for consumer spending to "go up."
 Follow Meghan on Twitter @MFoley_WSCS
Don't Miss: Eurostat: Industrial Output Declines Sharply in the Eurozone.