Are Consumers Starting to Sour on the Economy Again?
After hitting its highest level in almost six years, consumer sentiment in the United States is starting the month on a low note.
According to the Thomson Reuters/University of Michigan's preliminary reading, consumer sentiment in June fell to 82.7, compared to 84.5 in May. Last month's reading was the best level for the index since July 2007.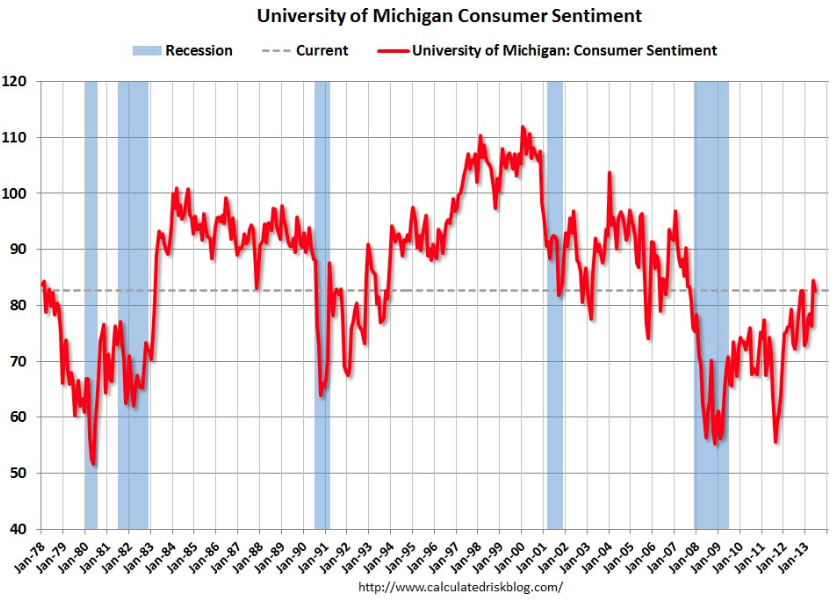 The median forecast in a Bloomberg survey called for sentiment to hold steady at 84.5, and the overall range of estimates varied from 82.0 to 89.0.
During the last recession, the index averaged slightly above 64. In the five years before the financial crisis, it averaged almost 90. Consumer sentiment is one of the most popular measures of how Americans rate financial conditions and attitudes about the economy. The University of Michigan's Consumer Survey Center questions 500 households each month for the index.
The reading on current economic conditions, which measures whether Americans think it is a good time to make large investments, dropped from 98.0 in May to 92.1 in June. However, consumer expectations improved from 75.8 to 76.7.
Unsurprisingly, survey director Richard Curtin notes that confidence declined the most among lower-income households, which were "more likely to report worsening overall financial prospects" than higher-income households.
The report echoes Gallup's U.S. Economic Confidence Index, which recently retreated from multi-year highs. Twenty percent of Americans said current economic conditions are excellent or good, while 33 percent say they are poor.
In morning trading, stocks were mostly unchanged. The Dow Jones Industrial Average and S&P 500 both traded flat, while the Nasdaq dipped 0.10 percent.
Don't Miss: 5 Simple Ways to Control Your Credit Card Debt
Follow Eric on Twitter (@Mr_Eric_WSCS)