Are Existing Home Sales Starting to Crack?
Existing home sales in the United States unexpectedly declined in December, but still finished the year in positive territory, as low mortgage rates and inventory levels support the industry.
On Tuesday, the National Association of Realtors announced that total existing home sales, which are completed transactions that include single-family homes, town-homes, condos and co-ops, dropped 1.0 percent to a seasonally adjusted annual rate of 4.94 million units in December. In comparison, November showed a downwardly revised 4.99 million units in November.
Start 2013 better than ever by saving time and making money with your Limited Time Offer for our highly-acclaimed Stock Picker Newsletter. Click here for our fresh Feature Stock Pick now!
However, December still had the second highest rate of sales since November 2009. The preliminary annual total for existing home sales in 2012 came in at 4.65 million, representing a 9.2 percent increase from 2011 and the best level in five years.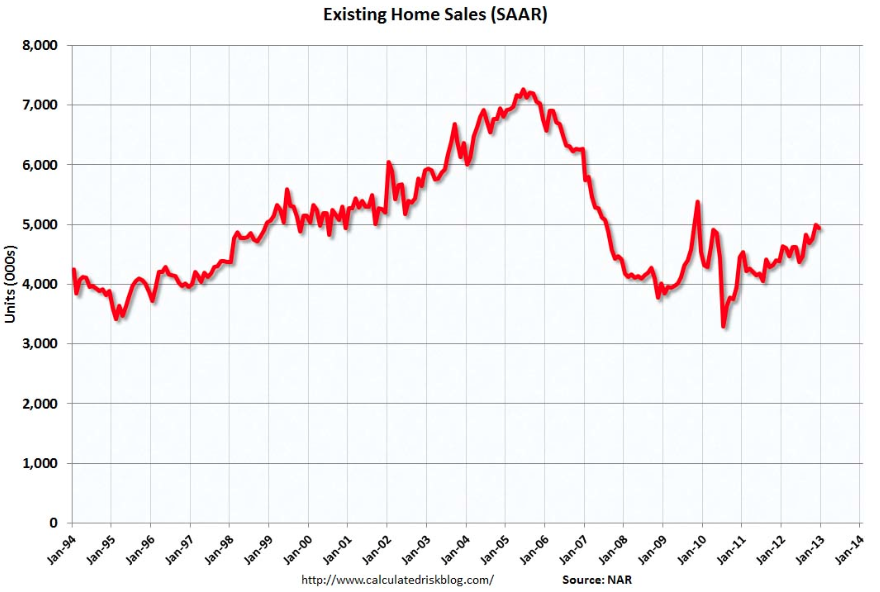 Lawrence Yun, NAR chief economist, explains, "Record low mortgage interest rates clearly are helping many home buyers, but tight inventory and restrictive mortgage underwriting standards are limiting sales. The number of potential buyers who stayed on the sidelines accumulated during the recession, but they started entering the market early last year as their financial ability and confidence steadily grew, along with home prices. Likely job creation and household formation will continue to fuel that growth. Both sales and prices will again be higher in 2013."
Single-family home sales in December dipped 1.4 percent to a seasonally adjusted annual rate of 4.35 million units, compared to 4.41 million units in November. On a regional basis, existing home sales in the Northeast and West increased 3.2 percent and 5.1 percent, respectively. Sales in the Midwest and South dropped 5.9 percent and 3.0 percent, respectively.
Low inventory levels continue to support home prices. The national median existing home price for all housing types increased 11.5 percent to $180,800 in December, compared to a year earlier. This is the 10th consecutive month of year-over-year price gains. The last time this occurred was August 2005 to May 2006, during the housing bubble.
Total housing inventory at the end of December dropped 8.5 percent to 1.82 million existing homes available for sale, representing a 4.4 month supply. This is the lowest supply of homes since May 2005 and down from 4.8 months in November. Meanwhile, raw unsold inventory is at its lowest point since January 2001.
Gary Thomas, NAR president, remains optimistic. He explains, "Although tight inventory is limiting home sales in many areas, overall sales are expected to stay on an upward trend. The biggest impact of tight inventory is upward pressure on home prices, but after values fell below replacement construction costs, prices are still affordable in most of the country."
Investor Insight: These 5 Stocks Beat Earnings 90% of the Time