Are Foreclosures Giving the Housing Market a Warning Sign?
The housing market has experienced a rebound from recession lows. Intervention from the Federal Reserve, record low interest rates, and higher home prices have helped borrowers across the nation improve their financial standings. Foreclosures are down significantly, but a sluggish economy continues to weigh on parts of the country.
Foreclosure activity in the United States is showing signs of improvement. In the first six months of the year, 801,359 properties had default notices, scheduled auctions, and bank repossessions, according to a new report from RealtyTrac. That is a decline of 19 percent from the previous six months, and 23 percent lower than in the same period a year earlier. Overall, one in 164 housing units had a foreclosure filing in the first half of 2013.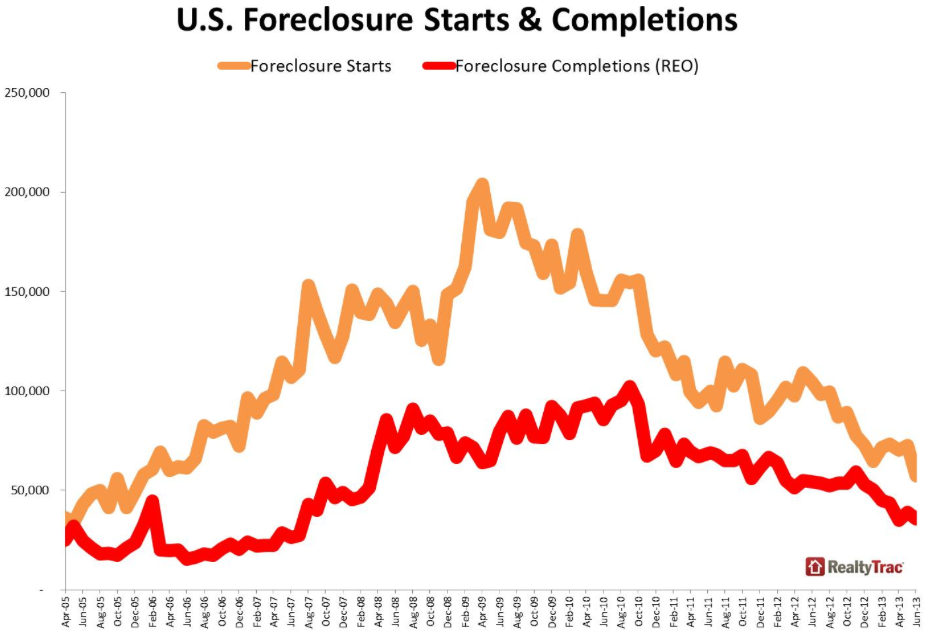 As the chart above shows, foreclosure starts and completions have been declining steadily for years. Properties with foreclosure filings in June totaled 127,790, down 35 percent from a year earlier and the lowest monthly level since December 2006.
"Halfway through 2013 it is becoming increasingly evident that while foreclosures are no longer a problem nationally, they continue to be a thorn in the side of several state and local markets, particularly where a backlog of delayed distress has built up thanks to a lengthy foreclosure process," said Daren Blomquist, vice president at RealtyTrac.
Foreclosure auctions only increased slightly month-over-month in June, but are up 34 percent from June 2012. States with the biggest increases from last year included New Jersey and Florida — both posted a gain of at least 100 percent. Maryland, Arkansas, and New York saw gains of 94 percent, 71 percent, and 66 percent, respectively.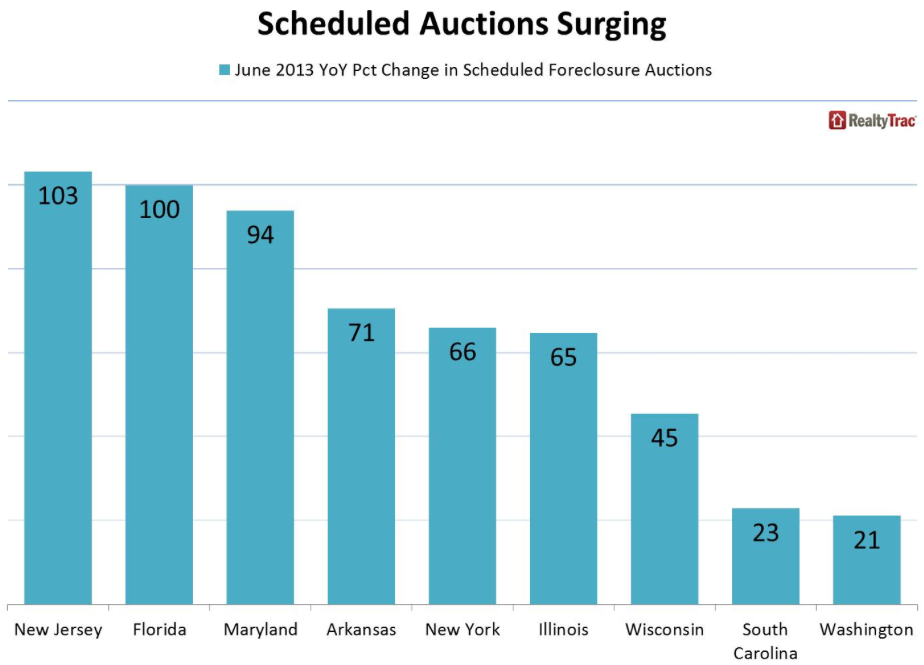 Blomquist continues, "The increases in judicial foreclosure auctions demonstrate that these delayed foreclosure cases are now being moved more quickly through to foreclosure completion. Given the rising home prices in most of these markets, it is an opportune time for lenders to dispose of these distressed properties, either at the foreclosure auction to a third-party buyer, or by repossessing the property at the auction and subsequently selling it as a bank-owned home."
Even though the real estate market has improved from recent lows in terms of prices and sales, RealtyTrac's report is a reminder that the housing market is not sitting on a strong foundation for everyone.
In the first quarter of the year, 25.4 percent of all homeowners with a mortgage were considered to be underwater, according to a recent report from Zillow. Another 18.2 percent of mortgaged homeowners do not have enough equity to afford a move.
A little more than 13 million homeowners with a mortgage owe more than their homes are currently worth. That number rises to 22.3 million homeowners when including homeowners with less than 20 percent home equity. Zillow finds the effective negative equity rate to be 43.6 percent when considering the under-equity crowd. Unaffordable payments and negative equity are the two leading causes of foreclosure cases.
"Reaching positive equity, even barely, is an important milestone. But things such as real estate agents' fees and a down payment for the next home traditionally come out of the proceeds from the prior home's sale. Without enough equity, these costs will instead have to come out of a homeowner's pocket, leaving many still stuck," said Zillow Chief Economist Dr. Stan Humphries.
Don't Miss: What Do Americans Think About the Housing Recovery?
Follow Eric on Twitter (@Mr_Eric_WSCS)