Are Government Woes Sinking Consumer Sentiment?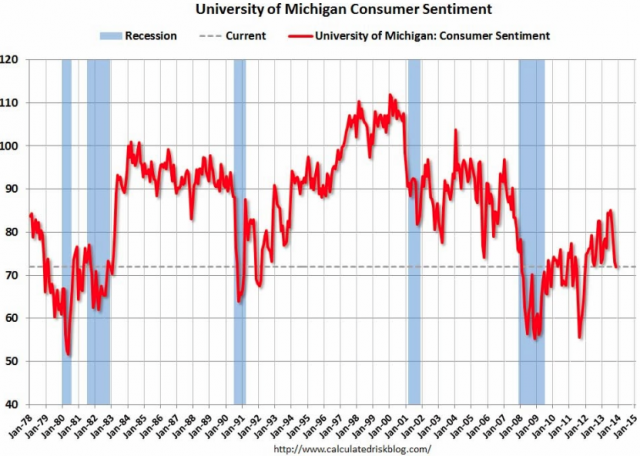 Against the backdrop of a sluggish economy and a dysfunctional government, consumer sentiment plunged to its worst level in nearly two years. According to Thomson Reuters/University of Michigan's preliminary reading, consumer sentiment fell to 72 in November, compared to a final reading of 73.2 in October. It was the lowest reading since December 2011.
During the last recession, the index averaged slightly above 64. In the five years before the financial crisis, it averaged almost 90. Consumer sentiment is one of the most popular measures of how Americans rate financial conditions and attitudes about the economy. The University of Michigan's Consumer Survey Center questions 500 households each month for the index.
The results were worse than expected. On average, economists expected a rise in consumer sentiment to 74.5. Prior to November's preliminary reading, the consumer sentiment index has missed expectations for two consecutive months, and it has declined for three months in a row.
Although the Commerce Department recently said the economy grew at a 2.8 percent annualized rate in the third quarter, growth has been unable to reach its long-term average of 3 percent this year. Meanwhile, the Bureau of Labor Statistics reported on Friday that the headline unemployment rate rose to 7.3 percent, even as the labor force participation rate fell to its worst level since 1978.
Political issues may also be lingering in the minds of consumers. At the beginning of October, the U.S. government went into partial shutdown mode for the 18th time in the past four decades, affecting everything from national parks to numerous agencies and public services. Adding to the political debacle, Congress bickered over raising the national debt ceiling for the 80th time since 1960. Republicans and Democrats finally agreed to a short-term fix by funding the government until January 15 and suspending the debt limit until February 7.
"Following the end of the shutdown, consumers were somewhat more optimistic about the outlook for the economy, but thus far the rebound has been lackluster," survey director Richard Curtin said in a statement.
The reading on current and future conditions both declined. Current economic conditions, which measure whether Americans think it is a good time to make large investments, fell from 89.9 in October to 87.2 in November, below estimates calling for 90. Consumer expectations dropped to 62.3, the lowest level in two years.
Earlier this week, the Bloomberg Consumer Comfort Index declined to -37.9. It was the sixth consecutive weekly decline and the worst reading since October 2012.
"Concerns about personal finances and deterioration in the buying climate underscore further declines in consumer comfort," said Joseph Brusuelas, a senior economist at Bloomberg LP in New York. "It will be interesting to see if the botched launch of Obamacare weighs on spending decisions."
Don't Miss: Is the Next Housing Bubble Already Here?
Follow Eric on Twitter @Mr_Eric_WSCS